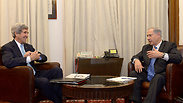 Kerry, Netanyahu in Jerusalem
Photo: Haim Zach, GPO
Erekat: If Abbas were Mother Teresa it wouldn't be enough for Israel
As Kerry meets with Palestinian President Abbas, chief Palestinian negotiator slams Netanyahu's remarks, suggesting Israel will always find a way to accuse Abbas of terrorism so it wouldn't have to accept Palestinians' demand for a state. Kerry scheduled to meet with Abbas again Saturday
Chief Palestinian negotiator Saeb Erekat hit back Friday at remarks by Prime Minister Benjamin Netanyahu on the Palestinian response to Israel's recent release of terrorists, saying that even if Abbas were Mother Teresa, the Israelis would find a way to accuse Abbas of terrorism so he wouldn't have to accept the Palestinians' demand for a state.
US Secretary of State John Kerry's closed-door diplomacy to broker peace between Israel and the Palestinians has burst into a public spat, with both sides trading blistering criticisms, Republican senators showing up in Jerusalem to argue Israel's side, and Palestinian demonstrators protesting his visit.
Related stories:
Kerry met with Palestinian President Mahmoud Abbas in Ramallah on Friday afternoon. Following the meeting, Abbas' office released a statement saying the two discussed ways to promote the peace process.
Kerry is on his 10th visit to the region to try to craft a peace treaty that would create a Palestinian state alongside Israel.
He met for three hours on Friday with Netanyahu. Later in the day, Kerry traveled to Ramallah, West Bank, to speak with Abbas. Although battered by sniping from all sides, Kerry remained upbeat – at least publicly.
Asked if he was making progress, Kerry replied that progress is being made every day.
Earlier, about 150 Palestinians demonstrators marched through the streets of downtown Ramallah to protest Kerry's visit. They carried Palestinian flags and signs that said: "The northern, central and southern Jordan Valley are a genuine part of Palestinian sovereignty."
Protesters chanted "Kerry, you coward, there's no place for you in Palestine!"
"The people want the fall of the framework!" they chanted, evoking the chants heard in protests throughout the Middle East in 2011. "It's clear, Kerry, we don't want to see you! The Americans are the enemy of our people!" they added.
Dozens of riot policemen and plainclothes security forces prevented their march from reaching Ramallah's presidential compound, where Abbas is expected to receive Kerry.
Separately, an official close to Abbas dismissed Kerry's drive for a "framework agreement" as biased toward Israel.
Yasser Abed Rabbo, Abbas's deputy in the Palestine Liberation Organization, said the plan, still being finalised, "restricts Palestinian sovereignty on Palestinian land".
"The Palestinian side will not even look at a worthless piece of paper, a framework agreement, which contains general principles for later negotiations, when the two sides have already been negotiating for months and years," Abed Rabo said in a statement published in the al-Ayyam newspaper on Friday.
The West Bank's Jordan Valley is a strategic area along the border with Jordan that Israeli hardliners, including members of Netanyahu's Likud Party, say must be annexed by Israel for its own security.
So far, the two sides have engaged in about 20 rounds of negotiations, which have entered a more intense phase. Kerry is asking both leaders to start making tough, highly political decisions in hopes of narrowing differences and agree on a framework that will outline a final peace pact.
The goal is for the framework, or series of guidelines, to address all core issues, including borders between Israel and a future Palestinian state, Palestinian refugees and conflicting claims to the holy city of Jerusalem. No agreement on a framework is likely during Kerry's visit.
Political activist Abdallah Maslamani said a proposed framework that would guide negotiations on a deal protect the security interests of "the terror state of occupation," a reference to Israel.
One night earlier, the digs were coming from the other side. Netanyahu lashed out at Abbas, accusing him of embracing terrorists "as heroes."
Netanyahu criticized Abbas' homecoming for more than two dozen Palestinians released earlier this week from Israeli jails where they had served time for deadly attacks against Israelis. The Palestinian leader never condoned their crimes, but Netanyahu took offense.
"To glorify the murders of innocent women and men as heroes is an outrage," Netanyahu said, dampening hope that much progress would be made on the contours of an eventual peace accord during Kerry's visit.
Even in Jerusalem, Kerry couldn't escape domestic politics interfering with international diplomacy. Three Republican senators held a news conference after meeting with the Israeli leader, reiterated his concerns, thereby emboldening Netanyahu's position right before Kerry's delicate talks with Abbas.
"Prime Minister Netanyahu has serious, serious concerns about the plan that has been presented to him – whether it be the ability of Israel to defend its borders, the viability of a Palestinian state and their intentions and their actions toward the state of Israel, and particularly on the overall security – whether it's boundaries, areas under Palestinian control," Sen. John McCain of Arizona said.
McCain was in Israel with fellow Republican Sens. John Barrasso of Wyoming and Lindsey Graham of South Carolina, following their visit to Afghanistan.
They used their news conference to express support for a bill that would impose new sanctions on Iran if it violated a recent nuclear agreement it made with the US, led by Kerry, and five other world powers, an agreement Israel opposes. The United States and the other powers that are party to the agreement believe Iran's nuclear program is aimed at producing a nuclear weapon, a claim that Tehran denies, saying it is intended only for peaceful purposes.
If it was perturbed, the Kerry camp did not share its irritation at the senatorial criticism from the sidelines. After spending 30 years in the Senate, Kerry is a big believer in lawmakers traveling abroad and participating in foreign policy debate, State Department spokeswoman Jen Psaki said.
"Since they were coincidentally in town, Secretary Kerry met with this congressional delegation this morning and they discussed a range of issues," she said.
Kerry has managed to dodge one setback, at least temporarily. Ahead of his arrival, Israel said it would announce plans to build 1,400 new Jewish settlement homes. But Israel backed off making the announcement, which would have angered the Palestinians, the United States and European nations, at least while Kerry was in town.
Receive Ynetnews updates directly to your desktop