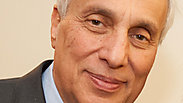 Rabbi Avi Weiss. 'One of the most active and important rabbis in world Jewry'
Photo: Jay Bar-David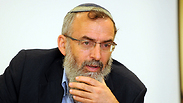 Rabbi David Stav. 'This is not the Torah's way'
Photo: Yossi Zeliger
Religious-Zionist rabbis are standing up for American Rabbi Avi Weiss for the first time, demanding that the Chief Rabbinate recognize his letters attesting to the Jewishness and personal status of his congregation members.

Following the Rabbinate's announcement last week that it would not accept Weiss' testimonies due to his "questionable" commitment to Jewish Law, a group of rabbis defining themselves as liberal-religious issued a statement saying that a person cannot be disqualified over his halachic opinions. "This is not the Torah's way," they argued.

Following Uproar

Following claims of rift with US Orthodox rabbis, Israel's chief rabbis sign treaty regulating relations with rabbis abroad. Accusations of 'black lists' of rabbis denied. 'Rabbinate trying to play dumb,' religious-Zionist movement says in response

"It's unthinkable that the loyalty of a rabbi committed to Halacha will be rejected for testifying that a person from his community is Jewish," said Rabbi David Stav, chairman of the Tzohar rabbinical organization. He added that there was no reason not to discuss Rabbi Weiss' rulings– on conversion issues, for example – and disagree about them, but "one cannot argue that when he says that a person is Jewish – that person is not Jewish."
'Torah encourages proper discourse'
Efrat local council Rabbi Shlomo Riskin testified that he personally knows Rabbi Weiss as "a person who is strict about every single mitzvah," adding that in regards to his ordaining of women to serve as clergy members in modern Orthodox synagogues, he has someone to lean on halachically.

"Rabbi Avi Weiss is one of the most active and important rabbis not only in the American Jewry, but in the world Jewry," Riskin said. "He has prepared hundreds if not thousands of Jews to observe mitzvot and the Torah, and he is devoted to Jews and Judaism in every place where they are in danger."

According to Rabbi David Bigman, co-head of Yeshivat Ma'ale Gilboa, "There have always been disputes over Halacha, and the open discourse is the vitality of the oral Torah. Only by significantly deviating from the road, scholars have rejected the owner of an unusual opinion rather than just his opinion.

"If rabbinical authorities disagree about an opinion voiced by Rabbi Weiss, they should disagree about it strongly but through a proper Torah discourse. Disqualifying a person over his halachic opinions without even mentioning those opinions, and without discussing their content and validity, is not Torah's way. A proper dispute not only does not harm the Torah, it even increases its strength."
'Serious and foolish mistake'
Kibbutz Lavi Rabbi Yehuda Gilad, another co-head of Yeshivat Ma'ale Gilboa, called on the Chief Rabbinate to stand by Orthodox Judaism – and mainly modern Orthodoxy – in the United States, whose rabbis were working tirelessly to draw their congregants closer to Judaism, in an era of growing assimilation.

"Rabbi Weiss stands at the forefront of this battle among the US Jewry," Gilad noted, arguing that disqualifying the American rabbi was "a serious and foolish mistake."

Shmuel Shetach, CEO of religious-Zionist movement Ne'emanei Torah Va'Avodah, which has been supporting Rabbi Weiss' struggle for recognition by the Chief Rabbinate, said that "the decision to freeze the testimony is still valid, backed by hidden complaints. Unfortunately, despite our appeals and bridging attempts, the Rabbinate is trying to present a completely morally faulty procedure as a proper procedure."

Attorney Yizhar Hess, executive director of the Masorti Movement, said in response that "Rabbi Avi Weiss is an absolute Orthodox rabbi, but not in the eyes of the Chief Rabbinate of Israel. The moderate modern Orthodoxy in Israel has woken up to a new dawn, in which it finds itself together with us – the Conservative Movement and the Reform Movement – outside the fence.

"They kept quiet when our rabbis suffered discrimination, but we won't remind them of the past – but stand by them with all required strength. We have been outside the fence for a sufficient number of years to know that it's cold out there."

Rabbi Shaul Farber, head of the ITIM institution, said that "the association has approached the Rabbinate and offered to help in forming clear and transparent guidelines for recognizing Orthodox rabbis working in Diaspora communities. Unfortunately, the Rabbinate favored the personal disqualification method, while crushing the dignity of rabbis operating out of love for the Jewish people love for the State of Israel, thereby hurting their students and congregants.

"We call on the Rabbinate to renege on its disqualification of Rabbi Avi Weiss and other Orthodox rabbis, so that it does not find itself disqualified by the Jewish world in Israel and around the world."