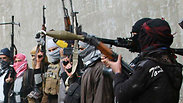 Al-Qaeda fighters in Fallujah
Photo: Reuters
Al-Qaeda gunmen seeking to form a radical Islamic state out of the chaos of Syria's civil war are fighting hard to re-conquer the province they once controlled in neighboring Iraq, stirring fears the conflict is exporting ever more instability.

Al-Qaeda's Islamic State of Iraq and the Levant (ISIL) cells have begun popping up in Lebanon, Syria and Iraq, seeding terror wherever they go and highlighting the dangerous spillover of the Syrian conflict into neighbor nations.

Related stories:

Iraq's prime minister urged Fallujah residents on Monday to expel al-Qaeda militants to avoid an all-out battle in the besieged city, a sign that the government could be paving the way for an imminent military push in an attempt to rout hard-line Sunni insurgents challenging its territorial control over the western approaches to Baghdad.

The militants' seizure of Fallujah and parts of nearby Ramadi, once bloody battlegrounds for US troops, has marked the most direct insurgence of Syrian rebels outside of the war-torn country.

Both the US and its longtime rival Iran view the escalating conflict with alarm, with neither wanting to see al-Qaeda take firmer root inside Iraq. Washington has ruled out sending in American troops but recently delivered dozens of Hellfire missiles to help bolster Iraqi forces.

Tehran signaled Monday that it is willing to follow suit, saying it is ready to help Iraq battle al-Qaeda "terrorists" by sending military equipment and advisers should Baghdad ask for it.

Any direct Iranian help would exacerbate sectarian tensions fueling Iraq's conflict, as Iraqi Sunnis accuse Tehran of backing what they say are their Shiite-led government's unfair policies against them.

Iran has the power to sway al-Maliki's political fortunes ahead of upcoming elections through its deep ties to Iraq's major Shiite factions, which have dominated government offices and security forces since the US-led invasion toppled Iran's arch-foe Saddam Hussein in 2003.

The ISIL's high-profile push into Fallujah illustrates the dangers of conflict spreading from Syria's three-year-old civil war, which is in part a proxy war between Sunni Muslim Saudi Arabia and Shiite rival Iran, analysts say.

ISIL fighters operate in Syria as well, and recent setbacks for the group in the war there mean its Iraqi members may be all the more determined to secure gains in Iraq, according to analysts.

"Both the Syrian and the Iraqi conflict are feeding upon one another," said Fawaz Gerges, a Middle East expert at the London School of Economics.

"There is already a fierce geostrategic struggle unfolding in the Arab arena between Saudi Arabia and Iran. There is a real danger that all-out war in Iraq could pour more gasoline on this raging fire and destabilize fragile Arab countries."

Gerges said a "governance vacuum" in Iraq, Syria and Lebanon has helped al-Qaeda to gain strength in recent years, risking a spillover into other countries in the region.

"Al-Qaeda in Iraq, Syria and even in Lebanon basically appeals to a certain segment within Sunni public opinion that feels alienated, marginalized or persecuted," he said.

Lebanon, Syria's small neighbor, has suffered a wave of bombings since last summer with the latest suicide bombing that killed at least five people in the Hezbollah stronghold of southern Beirut last week claimed by ISIL.

In a move reminiscent of the graphic al-Qaeda propaganda in the most violent years of US occupation, a video appeared online in August purporting to show ISIL fighter Shaker Wahib al-Fahdawi questioning three Syrian truck drivers at an Iraqi desert checkpoint and then shooting them dead.

Deeming them to be Alawites, a minority to which President Bashar Assad belongs and that is an offshoot of Shiite Islam, Fahdawi strung up the bodies by the roadside in a graphic warning to non-Sunni Syrians not to venture into Iraq.