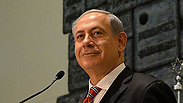 Netanyahu, 'Not just any other Israeli citizen'
Photo: Kobi Gideon, GPO
Businesspeople around the world are always looking for ways to pay as little tax as possible. Sometimes this craftiness is completely legal, sometimes it's what Israelis call a "kombina" (a shady deal), and sometimes the tax planning turns into a near-criminal tax scheme.

There is no doubt that what is attributed to Benjamin Netanyahu is not a criminal act. Not even close. He himself announced a foreign currency reform on the State's 50th year, allowing an Israeli citizen to take any amount of money abroad and even open a bank account overseas.

Inappropriate Move?

Globes reports Prime Minister Benjamin Netanyahu held bank account in Channel Islands in 1999-2003, between serving as prime minister and finance minister. PMO: All actions were fully reported to Israeli authorities

But – and there is definitely a but here – is it appropriate for a person who served as prime minister to engage in a "kombina" in order to avoid paying tax in his own country?

Only several months ago, the Netanyahu government's finance minister, Yair Lapid, expressed his fury about "the tycoons who make their big money in Israel – and then leave for Europe's capitals in order to pay less tax there on the profit they made in Israel. It would be appropriate for them to pay the tax on their profit in Israel."

Harsh criticism has been voiced in Germany, Holland and the United States against politicians using tax havens, including Republican presidential candidate Mitt Romney. President Barack Obama even used this matter to lash out at him during the election campaign. Although like in Israel, in the US this is not considered an offense either, it was seen as an act of "bad citizenship."

The Israel Tax Authority is really not fond of the tax havens and is trying to find out if some of the account holders are also evading tax. Mr. Netanyahu did not evade tax and legally reported the Channel Islands account to the Tax Authority. So far it's all very good.

Nevertheless, Mr. Netanyahu is not just any other Israeli citizen. He is a politician with a deep economic understanding, a former prime minister, who used his vast knowledge of all the secrets of economy to look after his own interests.

When a man of his rank takes steps to avoid paying taxes to the coffers of the state he used to head, and heads today, it's a problem. Because even a legal matter sometimes smells bad. Even very bad.