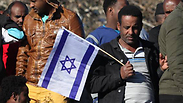 African protest
Photo: Gil Yohanan
Writing Tuesday for Ynet, Shaul Rosenfeld says the New Israel Fund's support for the tens of thousands of Africans living in Israel is part of a greater plan to destroy the Jewish nature of the state:
"...Once the protest increased and more and more demands were made to look into who is behind those 'spontaneous' activities and who is funding them, it turned out that that same fund, which makes sure to note in its website that 'the protests belong to the asylum seekers – they are the ones who initiate them, manage them, and lead them,' took the trouble to provide spontaneous aid to execute the first march and fund the spontaneous transportation of the infiltrators to Rabin Square in the big protest held there. It also turned out that another association dependant on the NIF greatly helped the infiltrators march from the Holot facility to Beersheba.
"Those human rights organizations, like the New Israel Fund, understand that only through tricks one can create a state of all citizens, and only through concealment one can succeed in neutering its Jewish character."
In his rebuttal, NIF's Avi Dabush dismisses the accusations that the organization is trying to undermine the Jewish nature of the state, citing its broad range of activities and its wealth of Jewish support:
"For those who are still interested in the facts: The New Israel Fund supports hundreds of organizations a year, and its activity has been enjoyed by many, at different scopes, for decades: Ethiopian immigrants, Mizrahim, Russian speakers, Arabs, haredim, women, etc. The aid is given in a variety of issues: Environment, employment, the battle against racism, human rights, housing and planning, health, gender equality, shared society and more.
"Those who are really and seriously interested in knowing where every shekel goes to are invited to visit the NIF website and read its reports, which have received praise and prizes from the US associations registrar.
And where is the money from? From American Jews who love Israel. Yes, just like the Jewish Agency or KKL, the federations which donate to every city and council we live in, as well as the Joint. Jews who wish to support trends of love of man, mutual guarantee, narrowing gaps and building an exemplary society, in the vision of the Proclamation of Independence. It's that simple."
What do you think about the issue at hand? Let us know in the comments below.