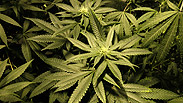 Cannabis plants
Photo: Reuters
Israel's war on medical marijuana seems to be coming to an end: Ynet has learned that the Health Ministry will next week launch a new website for patients to make an online request for cannabis to treat their illnesses. The website aims to make a significant dent in waiting times for treatment, with requests going immediately to medical experts for approval.

For Israelis trying to obtain medical marijuana, the past few years have been a nightmare. Patients have had to wait months for consultations, deal with lost bureaucracy, a lack of response from doctors and overwhelming frustration. But all of this is set to change next week.

Related stories:

With the new system, patients will go online, provide their personal details, and submit their specialist's recommendation for medical marijuana. Within seconds, the request is received by a department dealing with marijuana approvals, where it is dealt with by one of 21 doctors who can approve it.

The request is expected to be seen on the same day by the doctor, who will examine the request and approve on the spot if it meets the necessary criteria. This is in direct contrast to the long waits endured by patients seeking approval for medical marijuana. The Health Ministry is also expected to greatly increase the number of doctors who can actually prescribe the cannabis.

"The entire tale of medical marijuana is one of a very embarrassing snafu," a senior Health Ministry source told Ynet. "I personally am embarrassed for the patients. Forms get lost, frustrated patients get no answers. I hope that the online authorization will have some impact in easing this cumbersome path to a prescription."

There are approximately 12,000 people in Israel today who receive medical marijuana, and hundreds more are currently waiting for approval. In the past two weeks alone, some 400 patients received authorization for cannabis.

Most of the patients using medical marijuana in Israel suffer from neurological problems, such as MS, Parkinson's and ALS. Others suffer from severe chronic pain caused by diseases such as cancer, fibromyalgia or amputation. Others still suffer from weight problems caused by anorexia or other eating disorders, and cannabis stimulates the appetite.