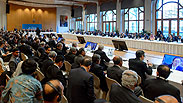 Syrian talks in Geneva
Photo: AFP
GENEVA - The Syrian government is poisoning the atmosphere of peace negotiations with the opposition by denying delivery of vital aid supplies to civilians, including in the besieged Old City of Homs, a US State Department spokesman said Tuesday.

He called for the government of President Bashar Assad to approve immediately the full list of proposed convoy movements requested by the United Nations to the Old City of Homs, Mouadamiyah, Douma, Yarmouk, Mleiha, and Barzeh.

Related stories:

Damascus had made no significant steps to provide access to besieged areas and ease the delivery of even a small amount of relief to those suffering, Edgar Vasquez, a US State Department spokesman, said in Geneva.

"If anything, the regime is further harming the negotiating environment through its continued denial of food, water and medical aid to the Syrian people," he said.

"Demanding opposition forces leave an area or put down their weapons before allowing the delivery of food and other much needed humanitarian assistance does not constitute an acceptable offer of humanitarian access. We've seen the regime do this before, as part of its despicable 'kneel or starve' campaign," he said.

UN trucks loaded with 500 tons of food and relief supplies are ready to enter northeastern Syria and head for Hassakeh and Deir al-Zor as soon as the Syrian government gives its approval, Vasquez said. Progress on humanitarian aid issues must be separate from ceasefire talks, he said.