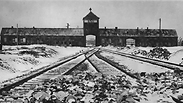 Passengers aboard a Belgian train from Namur to Brussels were stunned to hear an unusual message on the train's PA system: "Ladies and gentlemen, we are approaching Auschwitz. All Jews are requested to disembark and take a short shower."

The Janaury 31 incident led the Belgian rail company SNCB to file a police complaint over incitement to hatred.

Related stories:

TV station RTL reported that the unidentified passenger hijacked the PA system at 5 pm, peak time. He made his anti-Semitic remarks in French, according to the station.

The incident was reported to Viviane Teitelbaum, a Jewish lawmaker in the assembly of the Brussels region.

Teitelbaum told RTL he spoke to a person who was on the train, who told the lawmaker he suspects the passenger is a part of a group of teenagers who managed to grab a conductor's keys, that allowed them to gain access to the PA system.

A similar incident occurred in 2012 on the same train line, when the perpetrators - who were never caught - said "Welcome to this train heading to Auschwitz. All Jews are requested to disembark at Buchenwald."