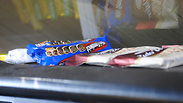 Gum for change
Photo: Khaled Ashker, Gisha
Gazans have been running low on Israeli coin currency for a while, partly due to an Israeli-imposed ban on copper imports. The creative solution engineered by Gazans was to melt down change to create copper wire. But no one could have expected the result – half-shekel and 10 agorot coins have become a rare commodity.

The coins' absence did not impact the day-to-day life of the average Gazan, as most prices were in full shekels. However, gas prices rose last month, after the tunnels used to bring fuel in from Egypt were sealed off, and as a result the price of public transport also went up.

Abed, a resident of Gaza City, tells Ynet that taxi and bus drivers had been forced to raise prices by half a shekel, but no one had the half-shekel coin to give change to their passengers. So, he says, the drivers improvised. They began to carry small items to make up the change - chewing gum, candles, pens, cookies and candies. The passengers pay the driver in full shekels, and get half a shekel's worth of products in change.




Abed noted that the locals have become accustomed to the unusual arrangement. Nowadays, nearly every taxi in the Strip is equipped with an assortment of low-cost items to make up for the missing change.

Another creative solution pioneered by the change-less cabbies – changing the fare price depending on the direction. Abed explained the new system: "The ride from Gaza City to Deir al-Balah costs, for example, four and a half shekels, but the drivers only charge four for this direction. The return ride cost rises to five shekels, and that way the passengers four and a half shekels each way."

According to Abed, the passengers in the Strip have become used to frequent improvisations and are treating the latest change nonchalantly. "Gaza residents have much bigger problems than a shortage of half-shekel coins, and so they don't really care that cabs have become a sort of kiosk."