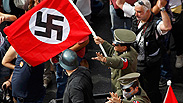 Protesters wave Nazi flag (archive)
Photo: Reuters
PORTLAND, Oregon - Four US teenagers are accused of shooting a fellow high school student with a BB gun and carving a swastika into his forehead.

Authorities said the teens had spent an evening sketching out ideas for torturing him.

Street Violence

Believed to be attacked as part of social-media-driven game called 'knockout,' in which participants sucker punch passers-by with goal of knocking them unconscious, Brooklyn Jew sustains light injuries. NYPD launches investigation

According to an affidavit filed Tuesday, the February 10 attack in Portland, Oregon, went as planned, until they released the 16-year-old boy to pull money from a cash machine. He fled to a nearby store instead and called police.

The teen told investigators he was lured to the shed by 15-year-old Jenna Montgomery. There, he said 15-year-old Blue Kalmbach shot him with a BB gun and used a box cutter to cut the swastika.

A similar attack was portrayed in the 2009 World War II movie "Inglourious Basterds."

The victim attended high school with Montgomery, where she asked him to hang out after school. They walked behind a house nearby, according to the affidavit, and Montgomery led him to a shed in the backyard.

Waiting inside were Kalmbach, 17-year-old Jess Taylor and a 14-year-old boy.

Kalmbach pointed a gun - later identified as a BB gun - at the victim and told him to take off his shirt.

The victim told investigators that when he complied, Kalmbach shot him in the chest, the groin and one of his hands. Then Kalmbach used a box cutter to cut the swastika into the victim's forehead, according to the affidavit.

Montgomery told the victim she wanted a skateboard, and the 14-year-old boy demanded money. They allowed the victim to leave, and he ran to an automotive shop, where he told employees to call police.

Authorities found the four alleged assailants in a home a half-mile from the shed.

Attorneys for the teens could not immediately be reached.

The three who are 15 and older have been charged as adults. They each face about 20 counts, ranging from kidnapping to robbery and assault. The 14-year-old boy will be prosecuted in juvenile court per Oregon criminal law.