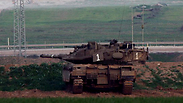 IDF tanksn at the northern Gaza Strip (Archive)
Photo: Roee Idan
The Israeli Air Force on Tuesday struck a Palestinian terror cell that was firing mortar shells at IDF soldiers from the southern Gaza Strip.
The Islamic Jihad said three of its militants were killed in the strike after firing at an IDF force east of Rafah.
IDF infantry and engineering corps were doing routine military work in the area when they were hit with Palsetinian fire, but none of the soldiers was hurt.
An observation post identified the members of the terror cell and sent an IAF aircraft to hit it.
Earlier, one of the army's unmanned surveillance aircrafts (UAV) has crashed in the Gaza Strip after experiencing a technical malfunction.
The IDF said it was investigating what caused the Skylark drone to go down on Tuesday.
Hamas militants say they have recovered the aircraft and handed it over to security forces. No further details were immediately available.
The IDF would not say whether the drone's fall into Hamas' hands could provide secrets or technology to the militants.
The Skylark, however, is known to have safeguards to prevent disclosure of information to unauthorized personnel.
The two incidents are likely unrelated.
The Associated Press contributed to this report.