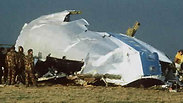 Remains of Pan Am Flight 103
Photo: Reuters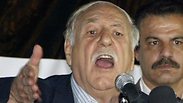 The explosion of a Pan Am plane in 1988 above the Scottish city town of Lockerbie was ordered and carried out by Iran and not by Libya, according to a former Iranian intelligence officer who defected from the Islamic republic and now resides in Germany.

The British Telegraph reported on Monday that the former spy, Abolghassem Mesbahi, was interviewed for a documentary show on Qatar's Al-Jazeera network, where he said that former supreme leader Ayatollah Ruhollah Khomeini wanted to avenge the United States for attacking an Iranian passenger flight that same year.

Related stories:

Tehran, and not Libyan leader Muammar Gaddafi, recruited a Syria-based Palestinian terrorist group to execute the operation. The former spy also claimed that the bomb that brought the American passenger plane down was placed at London's Heathrow Airport and not in Malta, as was previously believed.

Mesbahi defected to Germany in the late '90s. He said that Khomeini was eager to seek his revenge of the Americans, and to do so as quickly as possible. A year after the Lockerbie tragedy, he passed away after the order was carried out. The Iranian defector told Al-Jazeera that the Iranian leader's goal was "to copy exactly what happened to the Iranian Airbus," in which 290 passengers were killed.

All 259 Pan Am passengers were killed in the Lockerbie bombing, as well as an additional 11 people who were on the ground and were killed by the plane's debris. In 2003, Gaddafi-ruled Libya claimed responsibility for the attack, and agreed to pay $2.7 billion in damages to the victims' families.

Mesbahi revealed in the Al-Jazeera interview the names of four Palestinians who he claims were involved in the terrorist attack and were members of the Syria-based Palestine Liberation Front under Ahmed Jibril. This organization split in 1968 from the Popular Front for the Liberation of Palestine.

The four Palestinians are allegedly responsible for planning the deadly terror attack, constructing the bomb and placing it in the American passenger aircraft. Al-Jazeera's documentary further claims that the plot to bring down the Pan Am plane and its passengers was planned in a secret meeting in Malta, attended by representatives from Iran, Libya and Syria.

Several months prior to the Lockerbie bombing, German police managed to get its hands on two of the terrorists involved in the scheme and arrested them whilst preparing four bombs. A fifth bomb was never found, and was the one planted in the Pan Am plane that led to its explosion. The man carrying the bomb, according to the Qatari network, was a man named Abu Taleb.