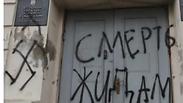 Anti-Semitic graffiti in Kiev
Rabbi Hillel Cohen, a prominent Ukrainian Jew, was attacked Thursday night in Kiev by anti-Semites who struck him while he was on his way to visit a Jewish tourist hospitalized in the city.
Cohen received treatment by a ZAKA emergency response volunteer team and was evacuated to the hospital with a stab wound to his leg, in mild-to-moderate condition.
Rabbi Cohen is the director of Ukraine Hatzalah, a Jewish emergency services provider composed solely of volunteers.
The attack occurred near the hospital where Cohen was to visit a Jewish tourist from England who had been hospitalized three weeks earlier.
Cohen told Ynet that the attack took place in a dark alley near the hospital and involved two assailants. He said he suddenly received a hard strike to his shoulder from a cane.
"I was called 'zyhd' (Jew) and some other words that I didn't understand in Russian. The intensity of the blow knocked me over and I hurt my hand," Cohen said.
The assailants continued to assault him while he was defenseless on the ground, and then fled in a getaway car. Cohen, who was conscious, was able to get up and stop a taxi, seeking shelter in a nearby synagogue, where he was treated by ZAKA staff.
Police forces later arrived in the area and Cohen filed a complaint.
Graphic images of Cohen's injuries:
Cohen described a feeling of "shock" when speaking about the incident, and said that "we must be more careful and watchful."
Racheli Cohen, the rabbi's wife, said Thursday's attack by two men on her husband was clearly an anti-Semitic act. "They struck him in the leg, shouting anti-Semitic slurs," she told the Jewish Telegraphic Agency.
Living in fear
Last month, 30-year-old Dov Ber Glickman, 30, a member of Kiev's Jewish community, was assaulted by three youngsters as he was making his way home from a Shabbat dinner in the capital's Podil neighborhood.
A week earlier, an Israeli-born teacher was beaten up at the entrance to his building. Locals said the attack was in the same area and carried out in the same style as the assault on Glickman.
Members of the local Jewish community describe a feeling of fear, and demand that authorities provide security in order to ensure their safety.
The recent series of anti-Semitic events also included a Molotov cocktail thrown at a synagogue in Zaporizhia; an incident which was captured on security cameras; a message sent to the rabbi of Kryvyi Rih that he must leave the city within 72 hours; graffiti on the home of the rabbi of Bilytske saying, "We are already near you"; vandalism against a sculpture created by a Jewish artist; and graffiti in favor of the anti-Semitic party.
The harsh incidents prompted Rabbi Menachem Margolin, director-general of the European Jewish Association (EJA) to press Prime Minister Benjamin Netanyahu and Defense Minister Moshe Ya'alon to urgently send security forces to the Jewish communities in Ukraine, which he said are suffering from a "growing wave of anti-Semetic attacks."
Margolin voiced his concern that the anti-Semitic activity in the eastern European country could reach a point where Jews live in great risk.
Reuters contributed to this report.