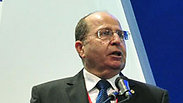 Defense Minister Moshe Ya'alon
Photo: Ariel Hermoni/Defense Ministry
Defense Minister Moshe Ya'alon said Saturday that he does not view Palestinian Authority President Mahmoud Abbas as a partner for peace, noting that he does not believe peace will happen in his generation.
"I've discovered this conflict is about the entire Palestine, they don't recognize our right to exist here ... it is impossible to make an agreement without there being recognition on the other side of our right to exist as the national homeland of the Jewish people," he told Channel 2's "Meet The Press."
"Abu Mazen (Abbas) is a partner that receives but not a partner that gives. He's not a partner for a final accord that ends with the recognition of the State of Israel," Ya'alon said.
Abbas, he said, "was repeating the trick from Oslo, without recognition or promises."
Related stories:
The issue of Palestinian recognition of Israel as a Jewish state has lately overshadowed other stumbling blocks over borders, refugees and the status of Jerusalem.
Prime Minister Benjamin Netanyahu was the first Israeli prime minister to make recognizing Israel as a "Jewish" state a central issue of peace negotiations, calling it the root of the conflict between Palestinians and Israelis.
Palestinians reject that claim, underlining that they already recognized Israel in 1993 and saying that enshrining it as a "Jewish state" would jeopardize Palestinian refugees' right to return home.
US Secretary of State John Kerry asserted on Thursday that it was a "mistake" to condition the peace talks on demanding the Palestinians to recognize Israel as a "Jewish state."
Ya'alon offered a more mild criticism of Kerry on Saturday. While in the past, Ya'alon accused Kerry of being obsessed with the peace process and seeking Mideast peace just so he could receive a Nobel Prize, this time the defense minister merely stated he was not sure whether Kerry was a fair mediator. "We'll see at the end of the process," he said.
Israel never promised release of Israeli-Arab prisoners
Ya'alon also said he opposes the release of Israeli-Arab prisoners as a part of the gesture to the Palestinians that helped launch the peace process.

Ya'alon stressed that Israel "did not promise, at any stage, the release of Israeli-Arabs. Only pre-Oslo prisoners."

Israel has committed to releasing 104 Palestinian security prisoners, jailed prior to the Oslo Accord, in four stages. Three of the stages have been completed, and a total of 78 prisoners have been released to Gaza, the West Bank and East Jerusalem.

Israel has always been reluctant to release its own citizens in prisoner exchanges because it claims that while Mahmoud Abbas represents the Palestinians in the PA, he has no mandate to speak for Israeli-Arabs.

On the list of those expected to go free in the fourth wave of prisoner releases are eight Israeli Arabs, including those involved in the Night of the Pitchforks – in which a group of Israeli-Arabs from Wadi Ara murdered three boot camp soldiers with axes and pitchforks – the murder of Abraham Bromberg and the commander of the terror cell that kidnapped IDF Master-Sergeant Nissim Toledano.

Also on the list are some six east Jerusalem residents and Palestinian terrorists, including those behind the murder of Ofra Moses and her son Tal.

Attila Somfalvi, AP and AFP contributed to this report.