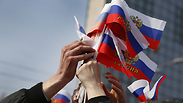 Russian flags in Ukraine
Photo: AP
Voting got underway in Crimea on Sunday in a referendum that will decide whether the Black Sea peninsula leaves Ukraine and becomes part of Russia.

At a high school in the Crimean regional capital of Simferopol, dozens of people queued to vote on a cool, cloudy morning.

"I came here on this festive day and voted for the benefit of Crimea and Crimeans, and now I'll head into town to celebrate," said Vladimir, in his late 40s.

European leaders and US President Barack Obama have dismissed the vote, which has been organized by Crimea's pro-Russian authorities at short notice, as illegitimate, saying it would violate Ukraine's constitution.

According to ballot papers published before the referendum, voters have the right to choose one of two options, neither of which rejects control by Russia.

Related stories:

The first question asks: "Are you in favor of the reunification of Crimea with Russia as a part of the Russian Federation?"

The second asks: "Are you in favor of restoring the 1992 Constitution and the status of Crimea as a part of Ukraine?"

At first glance, the second option seems to offer the prospects of the peninsula remaining within Ukraine. But the 1992 national blueprint is far from doing that.

Instead, it foresees giving Crimea all the qualities of an independent entity within Ukraine – but with the broad right to determine its own path and choose relations with whom it wants - including with Russia.
Overnight tensions
On the eve of the contested vote, the Crimean Peninsula was far from quiet. In the eastern reaches of the peninsula, witnesses report advanced Russian surface-to-air missiles being offloaded and readied for movement.
At a base near the naval port of Sevastopol, an air force commander takes to YouTube to appeal for clear orders of engagement with the Russian forces who have occupied much of his base. In a naval base near regional capital Simferopol, a commander reports feeling like a hostage, and fearing what will come in the next few days.
Among those facing the greatest and most fraught uncertainty were Ukraine's military forces on the peninsula, who have been hemmed in by heavily armed Russian troops and warned by the region's pro-Russian leader that they would be considered "illegal" if they didn't surrender.
With the new government in Kiev struggling to respond to a threatened Russian invasion in the east, build international support and stave off economic disaster, soldiers and sailors have lamented openly that they don't know what they're supposed to be doing. And, more importantly, what they're going to do if shooting breaks out.
The head of Crimea's unrecognized Russian-backed government, Sergei Aksyonov, has said Ukrainian solders will be allowed to surrender peacefully, leave Crimea altogether or resign from the armed forces.
In a message on Twitter, he warned that Ukrainian units that refuse to swear allegiance to the new Crimean authorities after Sunday's referendum would be considered "illegal armed formations."
Reuters and AP contributed to this report.