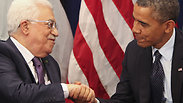 PA President Abbas and US President Obama at the UN General Assembly.
Photo: MCT
The future of the Israeli-Palestinian peace process is about to reach a decisive point on Monday when Palestinian Authority President Mahmoud Abbas meets with US President Barack Obama at the White House. Officials in Ramallah recently dubbed this meeting one of the most important diplomatic conversations in recent years.

The two are expected to discuss, among other things, US Secretary of State John Kerry's framework guidelines for the continuation of peace talks, and the possibility of extending peace talks beyond the set nine-month period.

Abbas is expected to ask Obama for a settlement construction freeze and for the release of additional Palestinian security prisoners in exchange for the Palestinian agreement to extend peace talks.

Statements in that spirit have been made by senior Palestinian officials recently, and different sources stated that the demand for prisoner release will include Ahmad Sa'adat - who is responsible for the assassination of the late Israeli minister Rehavam Ze'evi - and Marwan Barghouti - who is serving five consecutive life sentences and 40 years and is responsible for many terror attacks in which many Israelis were murdered or wounded. In addition, Abbas will also demand the release of old and ill prisoners.




Israel's objection to these demands is almost guaranteed. Israel has refused to release Barghouti and Sa'adat as part of the Gilad Shalit prisoner swap, so the odds it agrees to free them in return for an extension of peace talks are slim.

Related stories:

The odds Israel agrees to freeze settlement construction are also slim, as the sides agreed to start this round of peace talks without a freeze.

The Palestinians may temper their stance and demand that in the duration of peace talks, Israel does not issue new tenders for West Bank construction.

Judging by Abbas' recent public statements, the expectations are that he will completely reject Kerry's framework agreement, since the Palestinians believe the deal is biased and pro-Israeli.

Obama, on his part, is expected to pressure the PA president to accept the framework agreement.

Despite this, Abbas is not expected to break all the rules. He will reject some of Kerry's proposals, but will be flexible on others.

Unlike statements made by almost all members of the Palestinian leadership, who repeatedly said negotiations will not be extended even by one minute, it appears that Abbas will use a less decisive language with Obama.

The Palestinians are not interested in being portrayed as completely intransigent, and Abbas is therefore expected to say in his meeting with Obama that he is willing to consider extending peace talks until the end of 2014 in return for settlement freeze and the release of additional prisoners beyond the 104 agreed upon at the beginning of this round of talks.

Some Palestinian officials have made statements to that end in the past two weeks, including Nabil Shaath, who made similar comments in an interview with Ynet.

Abbas will be joined in Washington by chief Palestinian negotiator Saeb Erekat and Palestinian intelligence head Majid Faraj.

The Washington meeting will be accompanied by Fatah rallies in the West Bank and even in Gaza. On Monday, pro-Abbas rallies are expected in Gaza City and in other cities, while the main demonstration will take place in Ramallah.

The Hamas government, however, has already expressed its displeasure with the protests when it forcefully dispersed a group of protesters Sunday expressing support in Abbas in one of the main squares in Gaza City.