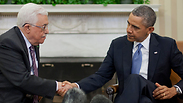 Obama and Abbas at the White House
Photo: AP
US President Barack Obama on Monday urged Palestinian President Mahmoud Abbas to make tough decisions and take risks for peace with Israel, saying he hoped to see progress in US-brokered negotiations in coming weeks.
The US leader was seeking to secure Abbas's agreement on a US framework to extend peace talks, which have so far lasted seven months but not made tangible progress, past an end-of April deadline.
Abbas: We've recognized Israel before (צילום: רויטרס)
"We're going to have to take some tough political decisions and risks if we're to move it forward," Obama said at the start of his Oval Office meeting with the Palestinian leader. "My hope is that we can continue to see progress in the coming days and weeks."
Related stories:
"As I said to Prime Minister (Benjamin) Netanyahu when he was here just a few weeks ago, I believe that now is the time .... to embrace this opportunity," Obama added. The US president met with the Israeli premier two weeks ago in Washington.
Abbas responded that he considers this a historic opportunity and he thanked Obama for economic and political support, but noted that "We don't have any time to waste. Time is not on our side."
Obama said everyone understands what the contours of a peace deal look like - territory based on lands prior to their Israeli capture in 1967, with "mutually agreed upon swaps," that ensure the security of Israel and a sovereign state for Palestinians.
Obama seemed to take pains to bolster Abbas, commending him for his commitment to peace and praising him as a leader who "has consistently renounced violence, has consistently sought a diplomatic and peaceful solution that allows for two states, side by side in peace and security - a state that allows for the dignity and sovereignty of the Palestinian people and a state that allows for Israelis to feel secure and at peace with their neighbors."
Abbas, for his part, pressed for Netanyahu to go ahead with the scheduled release of a final group of Palestinian prisoners by the end of March.
"We are hopeful that the fourth batch will be released by the 29th of March because this would give a very solid impression about the seriousness of the Israelis on the peace process," he said.
Israeli ministers said last week that they would have difficulty approving the release if agreement was not reached to extend the peace talks.
Israel committed to the release of 104 Palestinian prisoners in four tranches when talks were launched in July. It has so far released 78 of those in three batches, with Palestinians demanding the fourth - scheduled for later this month - also include Israeli-Arabs.
While Abbas did not directly address the Israeli government's demand for the Palestinians to recognize Israel as a "Jewish state," he did note, through a translator, that the Palestinians had recognized Israel's legitimacy in 1988 and in "1993 we recognized the state of Israel."
Last week, however, Abbas has insisted that he will not agree to demand to recognize Israel as a Jewish state. "I am 79 years old and am not ready to end my life with treason," he said.
After the meeting, Abbas spokesman Nabil Abu Rdainah described the meeting as "long, intensive and difficult." He said a number of ideas were considered but "we did not receive anything in writing."
Later, Abbas will join Obama for a work lunch in the cabinet room. Abbas will be joined by chief PLO negotiator Saeb Erekat, Mohammad Shtayyeh, spokesman Nabil Abu Rudeineh and the PLO Ambassador to Washington Maen Areikat.
On the American side of the table, Obama will be joined by US Secretary of State John Kerry, special American envoy to the talks Martin Indyk and Phil Gordon, the president's Middle East adviser in the National Security Staff.
Reuters, Associated Press and AFP contributed to this report.