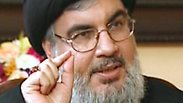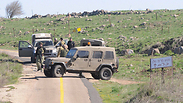 Three IDF soldiers hurt in blast on Israel-Syria border
Photo: Avihu Shapira
The explosive which wounded four IDF soldiers Tuesday was probably placed there by Hezbollah men. Though no organization has yet claimed responsibility for the blast, it is safe to assume that Hezbollah will attempt to cover its tracks. However, the manner in which the device was laid to the east of the border and its exact location have Hezbollah's fingerprints all over them.

The radical Shiite terror group is acting on its desire to avenge an attack on a weapon's convey two weeks ago which it attributes to Israel. According to the Middle East logic Hezbollah is following, the group will not rest until it takes revenge for the attack on the convoy, which was carrying advanced rockets from Syria to Beqaa in Lebanon. In the incident, at least one Hezbollah man lost his life and thus Hezbollah is out looking for IDF blood, an eye for an eye.

Boder Incident

Blast in area of Druze village of Majdal Shams on Golan Heights; initial investigation shows bomb detonated near IDF patrol. Netanyahu promises to 'act firmly' as IDF return fire, targeting Syrian military targets.

More than a year ago, Hezbollah set up a field base in the northern side of the Syrian Golan Heights, to aid forces fighting for Syrian President Bashar Assad and launch attacks against Israel. This Hezbollah cell was initially based in the Syrian village of Jubata al-Khashab and in the past had deployed Palestinians from Ahmed Jibril's Popular Front for the Liberation of Palestine – General Command (PFLP-GC) to fire rockets at Mount Hermon military outposts. This may have been the course of action this time as well.

Hezbollah is not interested in a major escalation in the region right now. Its political and social situation in Lebanon is not at its best, and it is constantly forced to defend itself due to its involvement in the Syrian civil war, which causes the battles to spill over into Lebanon. Acting out against Israel could lead to harsh IDF response that could bring about mass havoc, and it is contrary to the interest of the Lebanese government – to have Hezbollah one of its core components.

A regional escalation is also contrary to the interest of Iran, which wants to keep Hezbollah's arsenal of missiles and rockets for a day in which there will be a need to harm the Israeli home front, such as in the case of an attack against nuclear facilities. Thus Hezbollah is not claiming responsibility and might even operate radical organizations to announce their alleged liability for the operation. It could be assumed that the explosive and the harming of Israeli soldiers would be seen as a success to Nasrallah, which would justify the cessation of the chain of vengeful attacks.