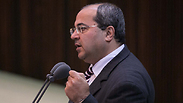 Ahmad Tibi
Photo: Ohad Zwigenberg
The attorney of Knesset Member Ahmad Tibi (Ra'am-Ta'al) issued a letter to Attorney General Yehuda Weinstein and Finance Minister Yair Lapid on Tuesday, in which he opposes the army service criterion in Lapid's plan to grant a VAT exemption to those who seek to purchase their first apartment from a contractor.

"It is a discriminatory and unacceptable condition based on racism, because, in essence, it is aimed mainly at the Arab population, a fifth of the Israeli population, as well as the haredi sector that do not meet the requirements."

Related stories:

"My client will clarify that in principle he praises any initiative to aid the easing of the housing crisis," Attorney Osama Sa'adi wrote, "however he absolutely rejects the attempt to deny the proposed benefit from all those who do not meet the requirement of army and/or civil service."

According to him, "denial of eligibility proposed to an entire public, for improper and racist reasons, and there's no other way of defining a requirement of army service, is a fatal blow to the principle of equality and even human dignity, which are core principles in every democratic regime."

"Therefore, I turn to your honor in demand to not include the threshold condition in the criteria for the proposed plan, in order to prevent serious harm to a big public that includes my client. To avoid all doubts, I will clarify that is the above proposal is approved, my client has asked me to turn to court to petition for its annulment."