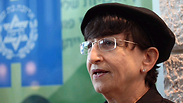 Rabbanit Adina Bar Shalom. 'I hope father can see this'
Photo: Ohad Zwigenberg
Forty-five years after the late Rabbi Ovadia Yosef won the Israel Prize, his daughter is about receive the same award for her life's work.

Education Minister Shai Piron announced Tuesday that Rabbanit Adina Bar Shalom will receive the prestigious award for her special contribution to the Israeli society and State of Israel, alongside Avi Naor, founder of the Or Yarok Association for Safer Driving in Israel.

Internal Criticism

Rabbanit Adina Bar Shalom, daughter of Rabbi Ovadia Yosef, says exclusion of women from public domain violates Torah. 'Halacha treats women with the utmost respect,' she clarifies.

According to the Israel Prize Committee, Bar Shalom is worthy of the award "because of her groundbreaking work to bridge rifts and social gaps and advance and create an integration between the haredi lifestyle and social openness and higher education.

"Bar Shalom faithfully led initiatives in which members of the haredi society acquire an education alongside Torah studies as a means of social mobility and integration into the labor market. She succeeded in navigating in stormy waters against contradicting outlooks and strong disputes and making a significant social contribution."

Bar Shalom, who will receive the award on Israel's Independence Day, told Ynet moments after receiving the news: "I am very excited. This decision surprised me and I am very grateful to those who selected me."

She added that her joy was mixed with sorrow: "All my life I wanted to have my father by my side when anything happy happened in my life. I hope that he can see this from above and that he is glad that I have honored him and the family.

"When father received the prize I was six years old, and I said to myself that I hope he will be proud of me for doing good deeds and caring for others. He wanted to change the world, and I am helping him. It's a sort of closure which only took place thanks to the home I was raised in."

She added that she would continue working to bring all parts of the Israeli society closer together.
Fashion design studies at age 30
Rabbanit Adina Bar Shalom was born in Jerusalem. At the age of three she moved to Egypt with her parents due to her father's public mission. When they returned to Israel, the family moved from place to place due to the rabbi's service.

The Education Ministry said in a statement that "the public mission became part of Adina's spirit and soul, and since then and to this very day, public activity is an inseparable part of her life."

The statement added that Bar Shalom, who is also a member of the public council of the Geneva Initiative, "has always been an unusual haredi woman, which was reflected in her fashion design studies at the Shenkar College, which she began at the age of 30.

"Her real desire was to study psychology, but out of modesty and respect to her husband she chose a different course, which was also unusual. In the 1990s, facing objections from part of the public to the haredi lifestyle and values as presented by members of the Shas movement, she began a thorough self-examination into the society she grew up in and belongs to."

Gilad Morag and Shachar Chai contributed to this report