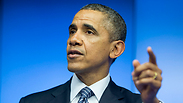 Barack Obama. The right man in the wrong position?
Photo: AFP
Barack Obama is beyond doubt a gifted orator. Speeches propelled him to the political limelight, speeches were decisive in landing him US presidential election victories and similarly, the venting of lofty thoughts secured him a Nobel Prize generally reserved for figures who have devoted decades of their lives to serving a civil or humanitarian cause.

Obama's problem is his belief that international disputes can be solved with rhetoric – that foreign policy can be staged like a political primary where the right speech rallies young and old, poor and rich, rabbis and imams behind a common struggle for peace and freedom.

US Dilemma

Analysis: Lack of firm US action may provide authorization for a further Russian expansion in post-Soviet satellite states.

Meanwhile, the Arab Spring sponsored by the White House has become a by-word for civil war, anarchy or the return of military dictatorships. The international ban on the use of chemical weapons has been brazenly breached by Assad in Syria. Iran is on its way to becoming a nuclear threshold state – and as long as this threshold is not publicly breached, the White House does not seem bothered by the fact that in five to seven years Iran, Saudi Arabia and other Gulf States will be able to boast about military applications of their "civilian" nuclear programs.

In Ukraine, Obama is going with the flow by condemning Russian aggression in Crimea, conveniently ignoring the role of the US in abetting Kosovo's secession from Serbia. By myopically seconding the indignation of traditionally anti-Russian states, the stance of Obama may unravel the post-Cold War international order and hasten the delivery of more Russian nuclear reactors and advanced missiles to Iran and other rogue states.

To a similar tune, in Latin America US influence has waned as Obama has lacked the resolve to challenge openly anti-US leaders in Venezuela and neighboring countries, which are increasingly turning to China and Russia for loans and investment.
Charisma and rhetorical gifts
Paradoxically, it was not Ahmadinejad, Assad nor Putin who first exposed the current US president's lack of resolve. Israeli Prime Minister Netanyahu's refusal to freeze settlement construction in the wake of Obama's landmark Cairo Speech was followed by months of bickering and petty haggling that made the US president cut the figure of an American tourist in a Jerusalemite bazaar. Although many Israelis are proud of Netanyahu's mettle, with hindsight it is evident that Netanyahu's victories were pyrrhic at best and ominous at worst.
Perhaps we are being too harsh on Obama. After all, he inherited a country in the midst of a financial cataclysm, which was being bled by reckless wars in Afghanistan and Iraq and which carries the burden of a ballooning national debt. Obama is certainly not guilty if America's immediate post-Cold War international supremacy is no longer tenable in the 21st century. Nevertheless, Obama is to blame for pursuing an ambiguous foreign policy driven by a Wilsonian zeal for spreading human rights, yet derailed by the Gandhian delusion that the right rhetoric can dissolve the thorniest disputes.
Indeed, it might not be a misjudgment to state that Obama is the right man in the wrong position. As the leader of an international church, human-rights organization or consumer-rights movement, his charisma and rhetorical gifts would have won over the hearts of hundreds of millions. But as president of the United States of America, the weakness of his actions as measured against the power of his words has sown cynicism in the international arena and weakened the Western World.