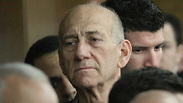 Ehud Olmert in court. 'It's time to leave him alone'
Photo: Ido Erez
Ehud Olmert was convinced that the ruling in his Holyland corruption trial would leave him off the list of convicted felons. The words "shock," "astonishment" and "feeling of ceaseless persecution" describe the storm of emotions that filled the former prime minister's associates gathering at his apartment Monday.

On Sunday, in private conversations, Olmert said that the Holyland affair had nothing to do with him. "I didn't not receive any bribe from the state witness, and there is no evidence to support (Shmuel) Dechner's claim that I asked him to transfer half a million shekels to my brother Yossi," defendant no. 8 said before the verdict.

Laws & Lies

Defense team for former prime minister hints at appeal of conviction, claims enough evidence exists to acquit their client.

Now, after Judge Rozen's verdict, the option of expressing any doubt is almost inconceivable. There is no doubt that a reading of the verdict is alarming and nauseating, and presents the reality of moral degeneration in Israel's corridors of power.

Olmert, say his people, did not take a bribe. "A thorough clean-out?" they sarcastically ask, using the phrase that was thrown around the moment the verdict was published. The truth, they claim, is that "they are cleaning up by throwing mud at Olmert."

The judge based his ruling on his "direct impression" of the defendants and the witnesses who appeared before him. So the defense attorneys face an uphill battle with their planned appeal to the Supreme Court against the decisive bribery conviction.

Olmert can claim that up to now he has been acquitted of most indictments filed against him. The problem is that this statement is reminiscent of something former education minister Zalman Aran said when a senior assistant walked into his room one day and informed him that he had been acquitted in a corruption trial. Aran, they say, looked at the man and said: "That's interesting, I don't even have one court acquittal certificate."

Olmert's problem is that during the tough times he is experiencing, people tend to forget and lead others to forget that during his years as prime minister he performed the role with great talent, and led the country in a way that was highly appreciated both in Israel and abroad.

In light of what is expected to happen to him if the Supreme Court rejects his appeal against the Holyland verdict, the State Prosecutor's Office should show some compassion. There is no reason for yet another investigation against him.

It's enough to read what Judge Rozen wrote of Shula Zaken, who will likely spend many years in jail, to reach the conclusion that it's time to leave Olmert alone.

For now we can settle for what defense attorney Eli Zohar said Monday: "It ain't over till the fat lady sings." This is one ray of hope for the next act in the saga of Ehud Olmert.