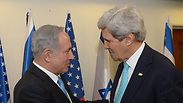 Netanyahu and Kerry
Photo: Amos Ben Gershom, GPO
US Secretary of State John Kerry's decision to cancel a Tuesday night meeting with Palestinian President Mahmoud Abbas is indicative of the Obama administration's "growing impatience" with the deadlocked peace talks, the New York Times reported Wednesday. The newspaper quoted a senior US official as saying that the Americans believe Israel and the Palestinians should find a way out of this latest deadlock themselves, and that Kerry's current efforts had been exhausted.
The crumbling peace talks had appeared to be somewhat back on track early Tuesday, with reports that Israel was willing to free more than 400 Palestinian prisoners and implement a "quiet" West Bank settlement freeze in return for a Palestinian agreement to continue negotiations into 2015 and the release of convicted US spy Jonathan Pollard. Kerry had met with Prime Minister Netanyahu twice in 12 hours, and intended to return Wednesday to meet with Abbas.
But all of this seemed to fall apart later in the day, when Abbas appeared on national television to sign 15 documents that appeared to seek Palestinian membership in United Nations and other international bodies, a move that the Palestinian president had threatened if the peace talks fell apart.
In his remarks to Palestinian leaders in the West Bank city of Ramallah, Abbas made clear he did not want to abandon the negotiations, but blasted Israel's delay in freeing prisoners it had committed to release as a goodwill gesture at the start of the talks last summer.
"We are not doing this against America, but we still don't see other ways forward," Abbas said, before signing the packet of papers.
Precise details of what he had signed were not given, but a senior Palestinian official, Mohammed Shtayyeh, told Reuters that one of the documents was the Geneva Convention, which lays down the standards of international law for war and occupation.
Signing the convention would give Palestinians a stronger basis to accede to the International Criminal Court and eventually lodge formal complaints against Israel for its occupation of lands captured in the 1967 Six-Day War.
Kerry subsequently cancelled his meeting with Abbas, although he insisted that while there was no agreement at present, the negotiations were not dead.
"This is a moment to be really clear-eyed and sober about this process," Kerry told reporters in Brussels on Tuesday, where he was attending a ministerial meeting of NATO.
"It is completely premature tonight to draw any kind of judgment, certainly any final judgment, about today's events and where things are," he said, making clear that he would pursue his efforts to end the generations-old Middle East conflict.
"We are continuing even now as I am speaking, to be engaged with both parties to find the best way forward."
Israel had promised in exchange to free more than 100 prisoners by the end of March, but failed to release the final batch, saying it wanted guarantees that the Palestinians would extend the negotiations beyond the April 29 deadline.
According to the New York Times, the US sees Abbas' televised announcement as an attempt to press Israel, rather than declare the talks over. The paper said that US officials had stressed that Abbas had not actually sought to join the International Criminal Court.