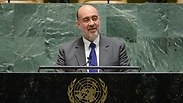 UN representative Ron Prosor
Photo: Shahar Azran
Israel has requested the UN dismiss Rima Khalaf, currently serving as the UN's under-secretary-general, for anti-Semitic statements she made in an official report.
"The accusation that Israel is conducting ethnic cleansing is the essence of modern anti-Semitism and it is unforgivable," Israel's UN Ambassador Ron Prosor wrote to UN Secretary-General Ban Ki-Moon Wednesday, in wake of a report penned by Khalaf, a Jordanian national.
"We were hoping that dark opinions like the ones Khalaf expressed had vanished from the world," Prosor wrote in a letter to Ban. "Anti-Israeli incitement sounded under UN sponsorship, while using its resources, is unfathomable," Prosor wrote.
Khalaf, had recently published an official UN report in which she claimed: "Palestine is still under Israeli occupation which is based on settlement-building and substitution," the latter being a veiled euphemism for ethnic cleansing vis a vis the substitution of one population for another.
The report continued to say that "By pushing for an exclusive Jewish State, Israel propagates the concept of religious or ethnic purity of states, a concept that inflicted on humanity the worst crimes of the last century."
Throughout it's 200 pages, Khalaf accused Israel for being the main cause for the internal tear in the Arab world and its problems in the fields of culture, education and environment and development.
"Israel's violation is not limited to direct occupation of Arab land. Israel makes repeated attacks on neighboring countries... These policies are a threat to the security of Arab citizens across the region... (which) cannot become free without the liberation of those Arab territories currently under Israeli occupation."
Israel claims that the report compares it with Nazi Germany, because the report claims: "Israel's adamancy that it is a Jewish State, which violates the rights of both the Muslim and Christian indigenous populations and revives the concept of state ethnic and religious purity, which caused egregious human suffering during the twentieth century."
Khalaf serves as Under-Secretary-General and Executive Secretary for the UN Economic and Social Commission for Western Asia (ESCWA. The body is located in Beirut and includes 17 countries and consults the UN's Economic and Social Council regarding development in the Arab world.