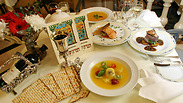 The Haggadah is the heart of the Passover Seder (illustration)
Photo: Shaul Golan
VIDEO – The first two days of the Passover celebration around the world are dedicated to the Seder and the reading of the Haggadah. This year, Jewish children in Rome will have a very special book called L'Allegra Haggadà, the cheerful Haggadah.

Made by the students of the Rav Elio Toaff nursery school, this Haggadah is intended for other children, not only Jewish.

Video courtesy of jn1.tv

The Haggadah tells the story of the Exodus out of Egypt and is the heart of Passover. Although it is traditionally made for children, of the thousands made all around the globe not even one is made by children.

Rare Item

Jewish manuscript, which experts say dates back to 18th century, discovered among various non-related items in cardboard box

"The 'cheerful Haggadah' is special because we see children in action," says Judith di Porto, head of the Rav Elio Toaff Nursery School. "We see children that realize the stories, the moments of this historical tale that made the Jewish people grow, that made it a real people."

The "cheerful Haggadah" was presented in the Rav Elio Toaff nursery school in the presence of Rome's Chief Rabbi Riccardo di Segni, a large part of the the Italian capital's Jewish community, and of course the little authors themselves.

"The children were four years old when we started last year," says Judith di Porto. "Every morning, there's a Torah lesson of half an hour, and after the explanation, the discussions and the reflections, they made drawings and photographs. Often the children dressed up as the characters of the Haggadah."

By children for children, that's the idea of L'Allegra Haggadà. The "cheerful Haggadah" is also an instrument of integration, a way to tell the story of Passover in a simple way to those who might not know it, such as non-Jewish friends and classmates.