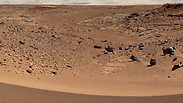 Sand dune on Mars
Photo: AFP
In another decade, the Mars One project aims to begin building permanent human settlement on Mars. Crews of four will depart every two years, starting in 2024. A handful of Israelis are among the more than 1,000 participants still in the running for the program, and some told Ynet why they want to live on another planet and never to return to Earth.
Dmitry Gooshchin:
In his video application, Dmitry Gooshchin is sitting beside a string of trophies. This, he says, is to underscore his ability to make good decisions under stressful conditions. Dmitry believes that the Mars One project will be a historical and scientific breakthrough that will inspire generations. "I'm not afraid of getting a one-way ticket to Mars, I will do anything to get it", he says. Even if the situation requires him to go beyond his mental and physical limits, he will do it without hesitation.
For this revolutionary step in planetary exploration, he says, the crew must be professionally ready, and strong enough that the whole of Planet Earth can rely on them. "Yes, I think I am the one," he maintains. "People can study my biography to confirm that."
It has been Dmitry's dream since childhood to go to Mars. All his life he has made preparations for such a mission, and is certain that his family understands why he would leave them.
"I'm in love with my wife; I love my kids, family and friends. But my family supports me in my decision. And I will be the best example for my kids - to reach the highest goal that they will set up." He is sure that people he loves will be extremely proud of him, like any human being on our planet would be.
Jonathan Vasquez:
Jonathan Vasquez uses a song from the Japanese anime series Space Brothers for his application film, because, he says, he found it "humorously appropriate." Jonathan says his motivation stems purely from his own unquenchable thirst for the improvement and advancement of mankind. "It is my belief that the responsibility of one's own generation is to improve the world in such a way that the next generation will not experience (the) same pain and hardships."
Related stories:
He believes firmly that any great achievement requires great sacrifice. "I would miss my loved ones dearly, but in the end this is my life and only I can choose how it will be lived," he says. If he could help to improve humanity no matter how miniscule his contribution, it would be worth it, he stresses, therefore a one-way ticket doesn't scare him. "It rather inspires me to know that my fellow astronauts would be as dedicated to this as I am," he says.
Yair Maimon:
In his video, Yair Maimon is wearing a t-shirt showing the TARDIS from Doctor Who. "This is symbolic, him being a time and space traveler in the show," he says. Off camera, a robotic voice asks him why he wants to join the mission. He tells Ynet that this voice is "nothing and everything".
Yair thinks that throughout history humans have been a species that pushes its boundaries to go beyond their limits. While major scientific advances could help sustain greater populations over greater periods on the heavily populated Earth, he believes that humankind should explore other options in outer space.
"While we're not yet at that critical level, I really think that we should start working on ways to open that valve properly", he says. "We need to push towards more affordable and recyclable space travel, while at the same time finding new places for mankind to live."
Furthermore, he says, the human race needs something to feed its curiosity, and space seems the obvious answer to the question of "what's next?"
"I would be crazy not to be afraid, but I think that all of the decisions worth making are scary to some extent", he admits. He thinks that "making a conscious decision to leave everything you love and hold dear behind is quite possibly the most intimidating decision a person could voluntarily make."
To Yair, the project represents an ambition that humans as a race should have. He likens it to how late Prime Minister Yitzhak Rabin decided to give up his dream of becoming an engineer in favor of a career in military and politics, or how Socrates decided not to escape prison and his death sentence in order to uphold the laws of Athens. "When there's a cause you believe in enough, you'll give up everything you can to make it happen," he says.
Nadav Neuman:
Because Nadav Neuman believes Earth is on a fast track to extinction, he wants to go to Mars. "And unless we find a new place to settle - we can say bye-bye to the human race – 'so long and thanks for (all) the fish'," he says.
If Nadav were to meet Martians, he predicts they would look like late Israeli poet David Avidan. He would approach them with "a tab of acid" and then help them through his own spiritual presence, as he claims in his application video. "Think of this situation, me and alien-David Avidan high on acid in the middle of Mars. I think we could solve many problems related to space and time issues."
For Nadav, living on Earth itself is a one-way ticket, not just the journey to Mars, so he is not fazed at the thought of leaving. He also believes that in a few years our whole way of traveling will be outdated, and people will travel unimaginable distances in a fraction of a second. "I have many loved ones here, but I think that wouldn't be an issue as the possibilities of space travel will improve and we could see each other whenever we want," he says.
Elad Eisen:
The teddy next to Elad Eisen in his application video once belonged to a friend who had to leave it behind when she left. "I couldn't let that poor teddy wander the streets of Tel Aviv, so I adopted him, sewed (up) his back, and promised I would never leave it alone. This is why he'll go to Mars with me. We're doing it together."
Mothers especially like him, Elad says in the video. He tells Ynet that it is probably because he enjoys their cooking and asks them for their recipes. "People say I'm a good listener, so that might be also a reason. I try to learn from everybody."
"Ever since I was a kid, space was a mystery to me. What fascinated me most of all were our closest neighbors, the Moon and Mars, being the ones that the human race can actually visit and discover, because imagination is great, but discovery is greater."
Elad speculates that they won't find there anything bigger than bacteria on Mars, and they would have to find them in a lab, using a microscope and Petri dish. "No matter what aliens on Mars might look like, I will approach them with my usual peaceful manner, the way I approach any living being," he says.
It's hard for him to think that going to Mars is a one-way ticket and means leaving his loved ones behind. But he is hopeful that while the mission is on Mars, technology would have already evolved to a point where a trip back to Earth might be possible.