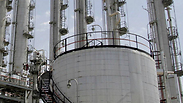 Arak heavy-water reactor
Photo: AFP
Iran said on Monday it was drafting a comprehensive account of its nuclear activities, but did not indicate whether this would be made available to help the final diplomatic push to resolve a decade-old dispute with the West over the program.

The move could meet Western demands for greater transparency to address concerns that Iran may have been trying to develop a nuclear weapons capability, but Behrouz Kamalvandi, spokesman for Iran's atomic energy agency, made no mention of this.

"There are various files on our atomic program, but we're lacking a comprehensive document, which we are writing now," the official IRNA news agency quoted Kamalvandi as saying.

Related stories:

"This is time-consuming, as we need to coordinate with other government bodies, but we hope to have it finished in eight months."

This timeframe would take the report past a July 20 deadline for the conclusion of the talks between Iran and six world powers – the United States, France, Germany, Britain, China and Russia.

The talks are intended to allay concerns of a weapons program and agree a framework for Iran's future nuclear work. Part of the basis for a deal will be an inquiry by the International Atomic Energy Agency (IAEA) into Iran's nuclear research to establish whether it sought atomic bomb technology in the past and, if it did, whether that work has stopped.

Iran says the program is aimed solely at civilian purposes such as electricity generation. However, Western powers note that some elements of the program have been concealed in contravention of international agreements. These include the Fordow plant, built inside a mountain, whose existence was only disclosed in 2009 after Western spy services detected it.

Speaking to students, Kamalvandi suggested the new document would be similar to those produced by other branches of government to set out their achievements, but he did not say whether it would be made available to outside parties such as the IAEA.

After four rounds of talks, Iran and the major powers are due to meet again at expert level in New York on May 5-9 to start writing the final draft of a nuclear deal.