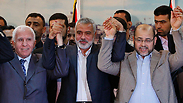 Fatah and Hamas representatives. At the moment, there is no one to talk to on the Palestinian side
Photo: Reuters
For years we have been laughing and shouting at the Palestinian Authority chairman, Mahmoud Abbas, also known as Abu Mazen: We do you even represent? Half the Palestinian people? And if we agree on something with you, will it also bind Gaza? Who are you and what are you without the Palestinians in Gaza? We have been pestering him, ridiculing and mocking him. A worthless person, good for nothing. We have been questioning him as a leader.

Now, when there is a possibility of unity (which is dangerous for us, I must admit) in the Palestinian world, when Gaza is building a bridge and contact with the West Bank, we are saying: Have you gone mad? This is Hamas, which wants to destroy the State of Israel, which is not ready to make any compromise until its sees the Israelis fleeing or dead. Now you want us to reconcile with you, search for peace and find it? Now?

Blame Game

Anaylsis: Unity agreement signed Wednesday is a lifeline for Islamist organization struggling to ruling Gaza, and poses a threat to development in West Bank.

The truth is that both Hamas and Fatah would have liked to see us disappear a long time ago. (Almost) all the Palestinians want to see our national and perhaps physical demise. The more moderate ones would put us on ships. The more radical ones would not leave us alive.

The first and main mistake was probably made by Moses, who brought us to the Land of Israel. He did not let us choose our neighbors either. But that's what we have and that's we must deal with, for worse and for worse. A country surrounded by enemies in contact range, with 1.2 billion Muslims in the second circle who want to see us all swimming in the sea. There is nothing good in this story.

Some will say that Zionism, from its very beginning, has been playing for time. Another year, another goat, another dunam. Over the years we also added another cannon, another tank, another aircraft. Every historian will say that our story is that of a miracle. The question is how does this story of a miracle continue from here on? What do we do in the face of the shared wall of hostility built last week?

Our natural – and very humane – tendency is to look at the close, current range of time, at next week and next month. But leaders must think and do for the next generations. How will they live here? Who will they live with?

The unity between Fatah and Hamas, even if it is temporary, is inauspicious. The Palestinians are gaining strength, after being exposed in all their factionalism and weakness in the past generations. We celebrated. Why should we care if Muhammad kills Mahmoud? The more the merrier, we said to ourselves, enjoying every minute of it, if enjoyment is the right word here.

It is. The building of dozens of settlements, communities, in Judea and Samaria was a sort of enjoyment (and some would say fraud). The people who mocked and ridiculed the "another goat and another dunam" theory for years became its greatest followers, adding a faithful passion, which some would even call messianic. "Because God is with us," they say in the settlement of Beit El.

At the moment is it almost clear that there is no one to talk to on the Palestinian side – not Fatah, and definitely not Hamas. We are left with almost only two options and one decision: Either we annex all the territories to Israel and establish one bi-national state, or we unilaterally set borders and a withdraw to them, according to what has been determined and achieved in previous talks.

There is of course another, third option: To continue the current situation, "drag" it some more, continue rattling the nerves of the Muslim world, the entire world and certainly the Palestinians, who have already been hit with all the plagues of the Passover Haggadah from us – and we are willing to go on.

The first option, the annexation, along with millions of Palestinians, did not even cross the mind of former Prime Minister Menachem Begin, who understood the political, economic, social, impossible situation of the State of Israel in such a case. The second option, setting borders and withdrawing to them is inconceivable to the settlers and their supporters – who appear to be a majority in the State of Israel right now.

We are left, therefore, with the third option – and that is probably what will happen. We will continue, as much as we can, to "drag" the current situation. More and more and more. For how long?

"Nothing is happening," IDF Chief of Staff David "Dado" Elazar told me. It was on October 2, 1973. Three days later we were in the midst of a war against the Syrian and Egyptian armies.