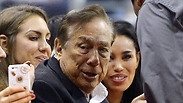 On the eve of Holocaust Memorial Day, the Jewish owner of the LA Clippers continued to get himself ensnarled in a race related scandal.

After a recording in which he made racists comments about NBA players surfaced caused a storm, an extended version had him belittling "black Jews" and claiming they are worth less than "white Jews" in a conversation with his girlfriend has emerged.

In a recording attained by Deadspin, Donald Sterling expresses ideas similar to the ones he did in the original recording obtained by TMZ, but also adds comments about Israel and race relations within the Jewish state.

Reported Racism

US president condemns comments after tape leaked of Los Angeles Clippers owner Donald Sterling making offensive statements.

In the recording attributed to Sterling, a male voice questions his girlfriend's association with minorities. TMZ reported the woman, V. Stiviano, is of black and Mexican descent. In the extended version Sterling responds to claims of racism by Stiviano, referencing Israel along the way.

Sterling: It's the world! You go to Israel, the blacks are just treated like dogs.

V. Stiviano: So do you have to treat them like that too?

DS: The white Jews, there's white Jews and black Jews, do you understand?

V: And are the black Jews less than the white Jews?

DS: A hundred percent, fifty, a hundred percent.

V: And is that right?

DS: It isn't a question – we don't evaluate what's right and wrong, we live in a society. We live in a culture. We have to live within that culture.

The conversation then moves on to invoke Hitler comparing Sterling's viewpoints to ideology that led to the Holocaust, Deadspin reported:

V: It's like saying, 'Let's just persecute and kill all of the Jews.'

DS: Oh, it's the same thing, right?

V: Isn't it wrong? Wasn't it wrong then? With the Holocaust? And you're Jewish, you understand discrimination.

DS: You're a mental case, you're really a mental case. The Holocaust, we're comparing with.

V: Racism! Discrimination.

DS: There's no racism here. If you don't want to be... walking... into a basketball game with a certain... person, is that racism?

President Barack Obama on Sunday described comments reportedly made by the Jewish owner of the Los Angeles Clippers "incredibly offensive racist statements," before casting them as part of a continuing legacy of slavery and segregation that Americans must vigilantly fight.

"When ignorant folks want to advertise their ignorance, you don't really have to do anything, you just let them talk," Obama said when asked to respond to Donald Sterling's reported comments.

The firestorm over Sterling's comments has quickly engulfed the NBA. Obama cast the comments through a broader prism of racism in America, adding that "we constantly have to be on guard on racial attitudes that divide us rather than embracing our diversity as a strength."

"The United States continues to wrestle with the legacy of race and slavery and segregation, that's still there, the vestiges of discrimination," Obama said during a news conference in Malaysia, where he was traveling.

"We've made enormous strides, but you're going to continue to see this percolate up every so often," he added. "And I think that we just have to be clear and steady in denouncing it, teaching our children differently, but also remaining hopeful that part of why statements like this stand out some much is because there has been this shift in how we view ourselves."

Obama said he's confident NBA Commissioner Adam Silver will address the matter. He said the NBA has "an awful lot of African American players, it's steeped in African American culture. And I suspect that the NBA is going to be deeply concerned in resolving this."

Silver had said the NBA needs to confirm authenticity of the audio tape and interview both Sterling and the woman in the recording. He called the tape "disturbing and offensive" and promised to investigate quickly.