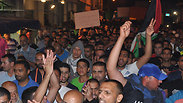 Fureidis protest
Photo: George Ginzburg
Residents of Fureidis and Zikhron Ya'akov demonstrated Tuesday night at the entrance to the Arab town against a "price tag" attack which occurred this morning.

Some 2,500 people were at the protest, in which the Jewish residents of Zikhron Ya'akov displayed signs that said "We support our neighbors" and "Bibi, Bennett, and Lapid – arrest the criminals.

The protestors demanded police forces arrest those responsible for Tuesday morning's "price tag" attack and bring them to justice. In response to the lack of arrests, the town of Fureidis will conduct a general strike Wednesday, which will include schools and businesses.

Prime Minister Benjamin Netanyahu invited the head of the local council to a meeting in order to discuss the matter in length.

Fureidis residents taking part in the protest claimed the government abandoned them, chanting "Netanyahu is a coward" and "Racism is spreading." Some of the demonstrators took a more aggressive approach, calling out "Price tag – terror" and "We'll sacrifice our life for Gaza."

Related stories:

One resident, Ahmed Marhi, told Ynet: "We're angry at the government and the police for their silence on 'price tag' attacks. It's hard to comprehend why no arrests have been made. It's very disappointing that the country cannot reach the criminals, who are still free to vandalize holy places."

Rania, another resident of the town, said: "Today these 'price tag' criminals target property, but tomorrow they may turn to murder. I think these acts are a message that soon they will target people."

Earlier Wednesday, President Peres spoke with the head of the local council and condemned the event: "I apologize to the victims on behalf of the citizens of this country. We will do everything in our power to maintain the good relations between Jews and Arabs in the town and its surrounding."

Peres promised to find the perpetrators and bring them to justice, and emphasized that "these despicable acts oppose the foundations of Jewish faith and morals."

A Star of David was spray-painted on the wall of a mosque in the Arab town of Fureidis early Tuesday morning, along with the writing "Close mosques, not yeshivot."

In addition, residents discovered that the tires of at least 20 vehicles had been slashed.

Worshippers who arrived at the mosque for morning prayers discovered the graffiti, which is believed to refer to the Border Police's takeover of a yeshiva in the Yitzhar settlement three weeks ago.

Residents from across Fureidis were called to arrive at the targeted mosque to pray and hundreds of people gathered at the place.