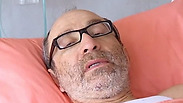 Kharkiv Mayor Gennady Kernes
"I'm alive, thank God I'm alive," said Jewish eastern Ukrainian Mayor Gennady Kernes Thursday in his first interview since being shot in the back in his native city in Kharkiv. He gave the interview to Ukrainian website TCH after being transferred to Israel for medical care.

Kernes was shot during a morning run at the end of the month of April and was flown overnight to a private hospital in Haifa for medical care.

The Ukrainian interior minister said that he would take personal responsibility of the investigation into the assassination attempt, but no suspects have yet been arrested and Kernes said that no one has contacted him in connection to the investigation.

Related Stories

When asked what he thought the gunman's motivation might have been, Kernes said that in his eyes, it's all political. "Kharkiv is a border city," he said, but refused to speculate further.

Kernes also added that in light of the current situation in the Ukraine, he was not interested in seeing his city become part of Russia. "I'm in favor of Kharkiv remaining part of Ukraine and therefore in favor of seeing her flourish," he said.

Kernes began his tenure as mayor of Kharkiv in March 2010 and was then widely recognized as a staunch supporter of former pro-Russian Ukrainian President Viktor Yanukovych who remained in office until fleeing the country last February due to a popular uprising in Kiev.

Reports from TCH said that Kernes not only survived against all odds, but is also making a quick recovery. He was already sitting up on his own, eating, and even carrying out mayoral functions by phone from his hospital bed.

Kernes took part in additional phone interviews and tool the opportunity to congratulate the veterans in his city celebrating VE Day and their victory over the Nazis.

When asked about his reaction to current events in Ukraine where dozens have been killed in what the government labels 'anti terrorist operations' Kernes said, "I'm aware of the events and I'm drawing my conclusions. I think that everything happens for a reason. But I want everyone to know: I'm alive and I will return to Kharkiv."