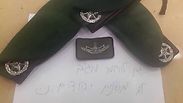 The photo that launched the protest
Photo: News 0404
IDF soldiers, who posted photos of themselves holding signs against the evacuation of illegal outposts, were suspended Thursday from their battalion.

Two soldiers from the 50th Battalion of the Nahal Brigade were suspended mere hours after they uploaded a photo to their Facebook page of a sign with the message "Soldiers from the 50th Battalion and the Nahal Brigade don't evacuate Jews," placed next to green berets worn by the brigade's soldiers.

The two were summoned for a hearing on the incident with Brigade Commander, Col. Yehuda Fuchs, which could lead to their imprisonment in military jail.

Officers in the brigade and the battalion spent the day Thursday questioning soldiers in an attempt to track down those behind the initiative that, unlike the one to support "David the Nahlawi," did not go viral. It did, however, lead soldiers from other units to also post Facebook photos with similar messages.

The two soldiers decided to confess to their commanders that they were behind the photos.

Sources in the IDF said that this time, unlike the "David the Nahlawi" case, soldiers who post political protest photos online will be severely punished, even if their faces remain hidden in the photos.

The 50th Battalion is likely to be deployed to secure the evacuation of illegal structures in the Givat Assaf outpost. This evacuation was due to take place in the next 24 hours, but was postponed in a few weeks following a High Court of Justice ruling.

Joining the 50th Battalion rebelling soldiers were soldiers from the Armored Corps' 7th Brigade, soldiers from the Givati Brigade and soldiers from the haredi battalion Netzah Yehuda, who posted similar photos on Thursday.

On Wednesday, security forces evacuated several illegal structures at the Ma'ale Rehavaam outpost, and faced resistance from settlers.

An IDF spokesman said: "The two soldiers, who turned to their commanders and admitted to being behind the photos calling to disobey orders, were suspended from the battalion and will face a hearing with the brigade commander. The use of social media as a means for protest by the soldiers is unacceptable and is against the IDF's core values."

Army sources noted, however, that the soldiers were not ordered to evacuate structures and were therefore not disobeying an order. If they face court martial, the sources said, "the disciplinary charges would be for 'inappropriate behavior.'"