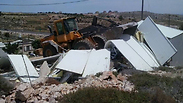 Demolition in Givat Assaf
Photo: Tzpit Agency
Two days after the demolition of eight illegal structures in the Maale Rehavam outpost near Nokdim, bulldozers, protected by the police's Yasam unit, arrived Friday at the Givat Assaf outpost near Beit El to demolish another illegal structure.

Intense negotiations took place in recent days between four of the outpost's residents and the Israeli Civil Administration. The latter demanded the settlers to willingly evacuate structures built on private Palestinian land.

Demolition in Givat Assaf (צילום: סוכנות תצפית)

Video courtesy of Tazpit News Agency.

The settlers evacuated the structures and demolished them on Thursday - all but one structure. That last remaining structure was the final one in this current wave of demolitions.

Related stories:

Elishiv Aviona, the owner of the structure demolished Friday morning, told Ynet why, unlike the other settlers, he was unwilling to evacuate his home. "I personally can't sell the truth but I also can't stand up to the police. If they want to demolish - let them, but I can't help them with that."

Aviona said the current wave of outpost evacuations "is not personal. It's a weakness of the state. I believe the people of Israel will be strong enough to settle the country."

Israel committed to evacuate the Givat Assaf outpost at the end of 2011, after an inquiry found that it was built on private Palestinian land. Over the weeks that followed, the state approved several of the settlers' building tenders in different plots in the outpost, and asked the High Court of Justice for extra time to examine whether some of the construction in the outpost could be legalized.

There are several structures left in Givat Assaf that remain under dispute, and their future hangs on a High Court of Justice hearing in June.

Over the past week, settlers in Samaria and Gush Etzion launched a campaign called "No to destruction - Yes to construction" that is directed at Defense Minister Moshe Ya'alon, calling on him to stop demolishing structures at outposts.

"The Defense Ministry launched a massive demolition operation in recent days in more than 10 settlements and outposts, these are dozens of permanent homes," said ads posted across the West Bank's Judea and Samaria districts.

"We call on the defense minister to stop the destruction campaign and return to the Zionist path of building new settlements and regulating and legalizing the existing ones. No more silence - it is time to act. This is not the time to freeze (construction) - it is time to survive. It is not the time to break - it's the time to live."