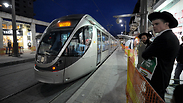 Haredi in modern Jerusalem
Photo: Guy Assayag
A fundamental divide exists in Jerusalem as religious groups passively combat a slightly smaller, but equally influential, community of secular residents, for the cultural character of the holy city, a Central Bureau of Statistics census released on Wednesday revealed.

Just over 815,000 citizens live in Jerusalem according to the census, 515,200 of which are either Jews or of other ethnic background, and 301,100 are Arabs. Of the 500,000 Jewish residents, 51.3 percent are Haredi. The steady emigration of Jerusalem's secular population would seem to suggest a victory for religious Jews, but the 48.7 percent are still clinging to possible light at the end of the tunnel.

The secular community has no doubt lost some key battles in the last few years, including the closure of the restaurant Resto Bar whose landlord wouldn't tolerate their non-kosher food and Shabbat working hours, and the ruling that Jerusalem's Cinema City complex would remain closed on the weekends.

Related Stories

However, those who don't keep Shabbat can lay claim to other numerous smaller victories. The First Station shopping center is open on the weekends and small businesses like Cafe Betzalel and the Talvia bar next to Jerusalem's theater also refuse to surrender their Shabbat hours.

The planned Sheruber complex in Abu-Tor will house movie theaters, restaurants, and other venues that will be open on the Shabbat. Municipality officials even suggest that the tide of businesses making profits on Shabbat will eventually lead to the opening of the Cinema City complex.

Ezer Aviv, part-owner of Cafe Betzalel, explained why he and his business partner decided to open their doors on Shabbat. "We always wanted to open on the weekends, but it never happened because it conflicted with another business.

"One day we just decided that there isn't any alternative in the neighborhood. We didn't want it to be seen as defiance, but there's still a large secular community that looks for a simple alternative for coffee that's not in a restaurant and there aren't very many options.

"We see this as a service to Jerusalem and we're very pleased with the results," said Aviv.

When asked what it means to be secular and live in Jerusalem, Aviv, who grew up in the city, said, "It's complicated. What's happening in the city is difficult, but my every-day life is nice. Our Cafe fits into a niche of secular people who are just like me."

Deputy Mayor Ofer Berkovitch recognizes the significant advancements in Jerusalem's secular life in the last few years, but said that there is still work to be done for those who want to experience a truly capitalist freedom of choice.

"As a secular man, I enjoy the city's secular culture and multi-culture atmosphere," said Berkovitch. Regarding opening businesses on Shabbat, he said, "I don't think we're where we should be on that issue."

"We're managing a meaningful struggle in places like Cinema City. I think bars and restaurants should be open on Shabbat and I see a trend headed in that direction in the last two years. Of course a secular person in Jerusalem doesn't have the option on Shabbat to pick and choose. With all the complications of Jerusalem, we're determined to achieve that," concluded Berkovitch.

Several other important figures arose from the census released on Sunday. Jerusalem's Arab community makes up 37 percent of the population, while the city as a whole suffered from negative immigration during 2012 meaning that the population of the capital actually decreased by 8,700. With birth rates included the overall population of Jerusalem increased by 12,400.

Jerusalem Day commemorates the unification of Jerusalem under Israeli control during the 1967 Six Days War. The event was agreed to be marked as an official Israeli holiday, though it remains a normal work day except for those taking part in official ceremonies.

These events include a remembrance ceremony at Mount Herzl and the president, prime minister, chief of staff and other officials will attend an event at Givat HaTachmoshet where Israeli troops fought a key battle in the taking of Eastern Jerusalem during the Six Day War.