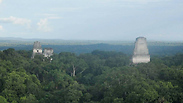 Guatemala (archives)
Photo: Reuters
The mayor of a Guatemalan town has made a "Jew registry," and ordered two Jewish families to leave. "Their customs aren't like ours," he insists.

The incident occurs on the heels of an Anti-Defamation League (ADL) poll revealing that anti-Semitism is a worldwide phenomenon.

Even though a focus on anti-Semitism has started in Europe and in the Middle East, at least one group of Jews in Guatemala was brave enough to speak of their own plight in the Central American press.

Anti-Semitism

Though annual report suggests a rise in Internet anti-Semitism, Czech Republic compared with other countries is relatively 'quiet.'

Misael Santos, a convert to Judaism from San Juan La Laguna, told Prensa Libre that his family first moved to the area because they "wanted a clean, quiet, peaceful and friendly place for our children to grow into adults."

Unfortunately, that was not the case.

Trouble really began after Santos began a synagogue, drawing Israelis and Jewish tourists alike to the Guatemalan heartland. This Jewish increase has caused the townspeople of San Juan La Laguna to feel uneasy by the difference of another group of people with different beliefs from their own.

They've since started a petition for the small Jewish community to be evicted.

The Nazi tactics that were employed on the small Jewish community occurred when the mayor ordered "Jewish registry" to be drawn up listing the town's Jewish residents. The move was apparently to keep note of tourism in the small town, but the Jewish community became wary and it began a turn from incitement to anti-Semitic violence in a matter of weeks.

Santos states that "They uploaded photos of (Adolf) Hitler to a website about the Jews in town, saying they will put us in cremation ovens," he said. "Fifteen days ago, a group of teenagers who has read the website came up to us and began throwing stones at us."

A few days later, several children began stoning a group of women in the Jewish community, shouting "You killed Jesus!" and then one of them threw an amateur explosive device.

Santos stated, "If I go to America, I must adopt the ways of the gringo." The small Jewish community of San Juan La Laguna is not causing any problems for anyone and is just expressing their beliefs that are not hindering the lives of others.

However, the increase of a Jewish population has made the community uneasy and brought around a Nazi-like expulsion idea of the small Jewish population.

Reprinted with permission from Shalom Life .