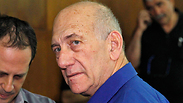 Former Prime Minister Olmert.
Photo: EPA
Police investigators recommended Thursday that former prime minister Ehud Olmert and his lawyer Navot Tel-Tzur be prosecuted on counts of obstruction of justice and misleading testimony, after Olmert had already been sentenced to six years in prison on corruption charges.

Head of the Police Department of Investigation and Intelligence, Maj.-Gen. Manny Yitzhak made the recommendation saying, "Olmert acted to (prevent) Shula Zaken from giving evidence… that could be used against him."

Zaken was one of Olmert's closest colleagues throughout his political career, but turned against him in court for a deal to shorten her own prison sentence, which was reduced to 11 months after she presented evidence against her former employer.

Related Stories

Police officials said that an investigation began two months ago which determined that in all three scandals involving Olmert and Zaken, the prime minister attempted to sabotage evidence that Zaken intended to pass to the courts.

According to police, the investigation also brings Olmert and his lawyer under suspicion for trying to convince Zaken not to sign a plea bargain in the Holyland affair, which eventually saw Olmert jailed, and according to investigators, Olmert also acted to influence her testimony in court.

During the same period, Zaken received favors from various sources at Olmert's request in money, and other forms, police said.

Tel-Tzur's name arose during Zaken's testimony when she claimed that Olmert tried to influence her account of events. One of her claims stated that Tel-Tzur convinced her not to sign a plea bargain with the prosecution.

Olmert's defense team responded to the police accusations saying, "We feel that it's appropriate for these continued attempts to harm the former prime minister cease."