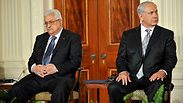 Netanyahu and Abbas. Is it time for another peace conference?
Photo: AFP
Benjamin Netanyahu's unwise conduct in the presidential election affair exposed the prime minister's general problematic performance and the drop in his ability to assess situations and make decisions.

Without stating it explicitly, politicians familiar with Netanyahu's conduct have begun preparing for changes in the composition of the government and the opposition, and perhaps even upcoming elections.

Hoping for Peace

US Secretary of State says both the US and Israel are waiting to see what kind of unity government the Palestinians form before moving forward with the peace process.

It's still possible that the troubling demeanors will change and improve. In the meantime, the Israeli press was not the only one which followed the Israeli prime minister's mood in amusement mixed with embarrassment. Foreign statesmen followed it as well and reached conclusions.

The attempts to restart the peace negotiations have stopped until Netanyahu's personal situation is clarified, and until Palestinian President Mahmoud Abbas' political situation is clarified as well.

The expected establishment of the Palestinian unity government was accompanied by a campaign of lies and deception which deepened the American aversion towards the Palestinian leadership. President Barack Obama can't stand them; they give him the creeps. He treats Netanyahu with merciful despair. In light of the situation, Obama isn't expecting anything anymore.

If that is the case, what could happen to prevent the alarming forecast of "one state for two people" from turning into reality? The prime minister is threatening to take unilateral moves. These are false threats: Netanyahu today is not the person capable of deciding and implementing a dramatic national move and confronting oppositions.

Abbas, from his headquarters in Ramallah, is threatening to turn to the United Nations General Assembly for further recognition of Palestine as a state. Another false threat: The Palestinian leadership is not interested in a Palestinian state without borders, without a capital, half occupied, one-quarter sovereign and surrounded by enemies.

Are we, therefore, sentenced to a demography which will take its course? Is it time to bid farewell for a generation to the hopes for an agreement and conduct a state funeral for them? It's possible. But there is another way which has not been tried for several decades: The multi-sided, multinational way.
It's time to start thinking differently
According to senior officials in Israel's strategic systems and senior government ministers, now is the time for a new initiative which will recruit global diplomacy to solve the Israeli-Palestinian conflict.

We must reach out, these sources believe, and ask for active involvement not only from the US – which has hit an iron wall – but also from Europe, Russia, China, and of course leading Arab countries. A new Middle Eastern peace conference could serve as the starting point of such a process.

Israel, in principle, hates peace conferences. They look like a stage for propaganda against us and as a remnant from the period in which the sides did not recognize each other and were only willing to hold indirect talks. But now, despite the mutual recognition, Netanyahu and Abbas are not even capable of agreeing on an agenda for an agenda for the discussions on an agreement. Neither alone, nor with American mediation. And the blame is mostly placed on Israel.

An international peace conference, on the other hand, has clear advantages for Israel, including sitting together with senior representatives from Arab countries and an effort to reach joint decisions. If it is run properly, the conference could create a decent basis for an agreement. The current composition of the global leadership guarantees that it will not be anti-Israel.

Now is the time, say those who initiated the idea, to start thinking differently, to replace the indecision of Netanyahu and Abbas with the resolve of Obama and Russian President Vladimir Putin, German Chancellor Angela Merkel and Egypt's President-elect Abdel Fattah al-Sisi.

If the world's leaders see a solution to the Arab-Jewish conflict as a personal measure of their leadership, they will have the power to come up with a durable compromise and execute it. Joint American, Russian, European and Arab backing will allow the governments in Israel and in Palestine to market the agreement to the local public opinion and make it easier for the public to digest it.

Such an agreement could be, experts believe, (relatively) good for Israel and tolerable for the Palestinians.

This may just be a wild dream. Possibly. But for now, in light of the situation of Israel's prime minister and the Palestinian Authority's president, it's much more realistic than the false hope that these two will start talking business, let alone get anywhere near to an agreement.