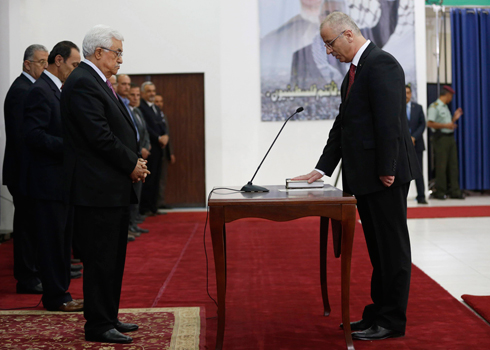 Palestinian government sworn in
Photo: Reuters
WASHINGTON - Prime Minister Netanyahu is using Israel's ambassador to the US, pro-Israeli groups and congressmen from across the aisle to fight the White House over its quick and firm Monday night announcement recognizing the new Palestinian unity government.

Within hours of Israel's security cabinet's decision to reject contact with the Fatah-Hamas administration and to hold Palestinian President Mahmoud Abbas responsible for terror emanating from the Gaza Strip, the US shocked its close ally by confirming it will support the new cabinet formed in Ramallah, a move that inspired the ire of pro-Israeli groups and representatives in the US.

In a string of tweets Amb. Ron Dermer lambasted the State Department's announcement, saying Israel was "deeply disappointed" with the move. The ambassador further reiterated Israel's position that Hamas is a terrorist organization that "has murdered hundreds of Israelis, fired 1000s of rockets at our cities, & remains committed to our destruction."
With suits in the front office and terrorists in the back office, it should not be business as usual. (4/4)

— Amb. Ron Dermer (@AmbDermer) June 2, 2014
Dermer's sentiment was echoed by pro-Israeli groups, who focused less on their disappointment from the US, and more on what AIPAC called "a disturbing setback to peace."

The lobby further urged to US to halt financial aid to that Palestinians, saying "US law is clear – no funds can be provided to a Palestinian government in which Hamas participates or has undue influence. We now urge Congress to conduct a thorough review of continued US assistance to the Palestinian Authority to ensure that the law is completely followed and implemented."

The United States views Hamas as a "terrorist" organization and the US Congress has imposed restrictions on funding for the Palestinian Authority, which typically runs at $500 million a year, in the event of a unity government.

However, when asked whether it would continue to fund the unity government, State Department spokeswoman Jen Psaki told reporters at a press briefing that as the interim Palestinian government does not include Hamas ministers, aid will, for the time being, continue.

State Department Spokeswoman Jen Psaki

"At this point, it appears that President Abbas has formed an interim technocratic government that does not include ministers affiliated with Hamas," said Psaki.

"Based on what we know now we intend to work with this government but will be watching closely to ensure that it upholds principles that President Abbas reiterated today," she said, referring to Abbas' commitment to honor past peace deals, a key demand by Israel.

Nonetheless, AIPAC slammed Abbas for choosing Hamas over Israel, decrying the former sole Gaza rulers as "an unreformed terrorist organization that continues to perpetrate terror attacks against Israel and has consistently rebuffed the international community by refusing to accept the Quartet principles of recognizing Israel, rejecting violence and accepting previous Israel-Palestinian agreements."

The US Conference of Presidents, also issued a condemning statement, lamenting the unity government and urging "the United States and other governments to be vigilant in their judgment of and dealings with the newly declared government. We call on President Abbas to return to the negotiations with Israel and not engage in this charade."

The umbrella group, which represents Jewish communities in the US, also reiterated that "United States law prohibits funding to a Palestinian government in which Hamas participates. We, therefore, support the calls by members of Congress from both parties to review US aid to the Palestinian Authority and to assure that the law is appropriately implemented."

According to US law, aid from the US may not benefit Hamas "or any entity effectively controlled by Hamas, any power-sharing government of which Hamas is a member, or that results from an agreement with Hamas and over which Hamas exercises undue influence."

But several senior US lawmakers said Washington should suspend the annual aid, which needs authorization by Congress.

"Funding for the Palestinians is off-the-table until it is clear that the unity government is committed to peace and security," said Republican US Representative Kay Granger of Texas, chairwoman of the House of Representatives State and Foreign Operations subcommittee.

New York Representative Eliot Engel, the top Democrat on the House Foreign Affairs Committee, said the Palestinian Authority was casting doubt on its commitment to the peace process and threatening future assistance.

"The United States is under no obligation to give a dime to the PA as it reconciles with a known terrorist group," he said.

The ADL also urged the US "to withhold recognition of the new government until Hamas renounces terror against Israel, acknowledges Israel's right to exist and accepts all prior agreements" and also expressed support for the idea of Congress imposing a "pause" on US foreign aid to the PA. It called the unity government "an outright negation of the tireless peace efforts of Secretary Kerry."

ADL director Abe Foxman said "Although we do not believe the US should immediately end all funding to the Palestinian Authority, we support the idea of a pause in funding," citing the same law ban US aid Hamas.

Nathan Diament, the Union of Orthodox Jewish Congregations of America policy director, echoed the claims, and said in a statment that "There is no question that Hamas – in words and deeds – is committed to the destruction of the State of Israel and to the use of terrorism to harm innocent Israelis. Irrespective of polite statements to the press, Palestinian President Abbas has sadly decided to cast his lot with an entity that is recognized by the United States Government as a terrorist organization."

Reuters contributed to this report