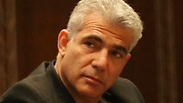 Amid the halted peace process and Israel's increasing isolation in the international community, Finance Minister Yair Lapid threatened Sunday to bring down the government if it decides to unilaterally annex the West Bank, and called to freeze settlement construction and map out Israel's future borders.

In a document released Sunday, the senior government minister criticizes Prime Minister Benjamin Netanyahu and Economy Minister Naftali Bennett, and urges a halt of construction in the West Bank, particularly in areas Israel was not expected to keep in any future peace accord.

After harshly criticizing his coalition partners, the Yesh Atid leader laid out a plan he formulated of steps he believes Israel must make immediately to help bring an end to the Israeli-Palestinian conflict - a settlement construction freeze, and mapping out future borders for Israel and a Palestinian state, the latter being one of the more sensitive issues for Netanyahu.

Related stories:

"Extreme right-wing forces are pushing us toward the delusional idea of annexation, which will lead us to the disaster called a binational state," Lapid said. "I don't know if this is a public relations exercise or a true intention, but we will not allow this to happen. If there is an attempt to annex even one settlement unilaterally, Yesh Atid will not only bolt the government, it will bring it down."

"If a Palestinian state is not established alongside Israel, the Palestinians will come to us sooner or later, with full backing of the world's nations, and tell us: 'Since you don't intend to give us our own state, at least allow us to become citizens.'

"Four million Palestinians will ask us for health insurance and national security, education, dole money and voting rights.

"If we say yes, we would cease to be a Jewish state. If we say no, we'll cease to be a democratic state. Both options are destructive, and our job is to stop them from happening."

The finance minister also said he believed it was time for Israel to decide what its borders are.

"There is no reason to keep avoiding the necessity of drawing out the State of Israel's future borders," he said.

Israel, he noted, "needs to come to the next round of peace talks with detailed maps, prepared by us, that express a wide national consensus. These maps would allow us to formulate a three-part move that, at the end of which, we will be completely separated from the Palestinians and reach a wide-reaching accord with the moderate Arab states."

Detailing the three stages of his proposed plan, Lapid called them "preparations," "trust building," and the final stage, "agreement."

"The reason these maps haven't been drawn until now is that they entail the need to freeze construction outside the major settlement blocs. But this sort of freeze is not a threat to us, and is not a concession on our part. It is exactly what we need to do.

"There's no reason to continue building settlements in areas that won't remain inside Israel's borders in any future accord, and there's no reason to invest billions in infrastructure that we would eventually give the Palestinians as a gift. I would rather invest the money to improve the lives of Israeli children, not in improving the lives of Palestinian children."

Lapid noted that "ever since we joined the coalition, my party and I have been fighting an ongoing battle, Sisyphean at times, against the trend of construction outside the major settlement blocs.

"I don't have a problem with construction in Gush Etzion or in Jerusalem's Gilo neighborhood, but building in isolated settlements is causing international damage that is only getting worse, and financial damage that every Israeli citizen can feel.

"These settlements cost us too much. They have a bad effect on economic growth, the gross national product and our financial relations with the world.

"In addition to the billions we lose by building redundant infrastructure, we're losing billions more that we could have otherwise used to lower taxes, increase security and improve civilian services."

Despite his harsh criticism against settlement construction, Lapid does not blame the settlers for the situation.

"They believe this is their responsibility to ensure we reach a point of no return, and their widely known goal is to build enough settlement homes, in enough places, to prevent the possibility of ever separating from the Palestinians.

"This is not a diplomatic or a defense position - even if at times it poses as such - this is an approach of faith. For them, this is a mission from God.

"But what turns this religious concept into a realistic option is the lack of an agreed policy, which is both resolute and coherent, from all of Israel's governments throughout the years.

"We need a coherent map that looks into the future, defines exactly what the main settlement blocs are, where we must freeze construction, and where can we increase construction."

On Israel's relations with the United States, Lapid asserted that "the fact the American administration decided, in direct contrast to our position, to open a dialogue with the Hamas-Fatah government, is further proof - to those who still need it - that we are in the midst of an unprecedented crisis in our relations with the United States."

This crisis, he said, "is a result of Israel's problematic, and at times disrespectful, behavior. But we still need, and ought to, restore our special ties with the United State to the right track. This will be the first step on the way back to the negotiating table."