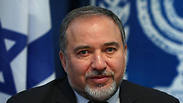 Foreign Minister Avigdor Lieberman
Photo: Foreign Ministry
Foreign Minister Avigdor Lieberman began a long tour Tuesday in five African countries, to promote the joining of Israel as an observer in the African Union (AU).

During his 10-day tour, Lieberman will travel to Rwanda, Ivory Coast, Ghana, Ethiopia and Kenya and will be accompanied by a delegation of 50 representatives from various Israeli companies to strengthen economic relations.

Related stories:

"Africa is an important goal of Israeli foreign policy, and we will make a diplomatic effort to ensure that Israel will be accepted in the coming year as an observer in the African Union (AU)," said Lieberman.

During the past year, both the President of the United States and the US Secretary of State visited Africa, as well as the President, Prime Minister, Vice President, Deputy Prime Minister and Foreign Minister of China. These facts are indicative of the great importance of Africa in the fluctuating international arena.

"Relations with African countries are of strategic importance for Israel in terms of security, diplomacy and economics," he added

This is Lieberman's second visit to the continent; In 2009, Lieberman traveled to Africa for nine days which was the first visit by an Israeli foreign minister in 20 years.

"There are many areas in which Israel can help the development of agriculture, water management, medicine and the fight against terrorism," said Lieberman.

"Israel wants to take back its place in Africa," Foreign Ministry Spokesman Yigal Palmor told AFP,

Israel was an observer member of the Organization of African Unity (OAU) until 2002, when the institution was dissolved and replaced by the African Union (AU).

"Our position within the OAU had been challenged by Muammar Gaddafi (former Libyan leader), who used intimidation to ensure Israel was not included as an observer at AU summits," Palmor said.