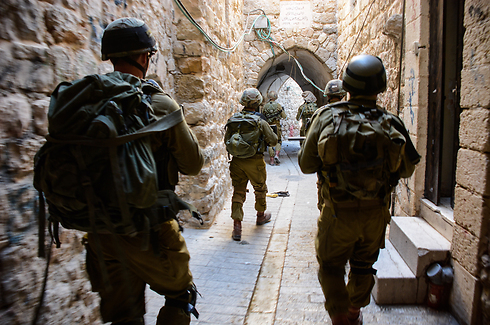 IDF forces searching for the missing boys
Photo: IDF Spokesman
A senior security official told Ynet that the current assessment is that search for the three missing Israeli boys presumed to be kidnapped in the West Bank will likely not end soon, but promises "we will get to them."

Meanwhile, former Shin Bet chief Yuval Diskin slammed those calling for a military response to the presumed kidnapping, and claimed that freeing Palestinian terrorists in return for kidnapped Israeli soldiers encouraged kidnappings.

Related stories:

The military source detailed the IDF's attempt to find the three, identified earlier as Eyal Yifrach, 19, Gil-Ad Shaer, 16, and Naftali Frenkel, 16, who have been missing since late Thursday night.

According to the source, "we have deployed additional forces, especially at the Shin Bet and intelligence level. This is difficult and complex work, and we have only fragments of information. We still don't know where the leads will take us; we are working towards finding a breakthrough."

The IDF deployed more than 2,000 soldiers to the Hebron area. Three battalions from the Paratroopers Brigade and another battalion from the Kfir Brigade were sent to the West Bank to deal with the possible breakout of violent riots. The police also announced it was raising the level of alert throughout the country.

The senior officer said that the forces have been going door to door, and confirmed that arrests had been made the night before.

He said that based on past experience, the three were probably still within the West Bank: "Historically, someone kidnapped in Judea and Samaria is found either dead or alive in Judea and Samaria."

said Saturday that Israel has prevented some 14 kidnapping attempts by Palestinians this year: "It appears this event slipped under the radar, but we will not rest until we free the youths and put our hands on the terrorists who are responsible for this operation," Yaalon said.

"As long as we don't know otherwise, our working assumption is that they are alive," he said.

Diskin slammed those calling for a military response to the presumed kidnapping, and appeared to hint that freeing Palestinian terrorists encouraged such kidnapping.

"I do not accept this. It is better we formulate a policy for releasing terrorists in return for kidnapped soldiers - or just freeze settlement construction during peace talks - which I think encourages additional kidnappings," he said.

"Forty-four thwarted (kidnap) attempts in that last two years speak for themselves. So no populism about the need to exert more strength to stop the problem."

Prime Minister Benjamin Netanyahu was set to hold a security assessment meeting with Ya'alon, Interior Security Minister Yitzhak Aharonovitch, IDF Chief Benny Gantz and Shin Bet Director Yoram Cohen later Saturday.

Some 2,000 IDF forces were searching the West Bank for the boys. IDF Spokesman Brig. Gen. Moti Almoz said the forces' current mission was to return the boys home safely. "We are concentrating all of our intelligence efforts on trying to track down the missing individuals."

Gantz met Saturday morning with Military Intelligence chief Aviv Kochavi, the head of the IDF Operations Directorate Yoav Har-Even, GOC Central Command Nitzan Alon, and the commander of the Judea and Samaria division Tamir Yаday for a situation assessment.

While Israeli security officials were in touch with their Palestinian Authority counterparts as part of the search for the three teens, sources at the Prime Minister's Office denied claims from a Palestinian official to AFP that Netanyahu has spoken to Palestinian President Mahmoud Abbas on the phone about the missing yeshiva students.