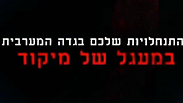 The Palestinian Authority's efforts to assist Israel in locating the kidnapped Israeli teens were met with a Gazan counter-response in the form of a video posted on social networks that called to fight against Israeli forces in the West Bank.

The video also positioned settlements as the focal point of the conflict and attempted to leverage the abduction into an all-inclusive battle. In addition, a song was released by Palestinians on Saturday mocking the kidnapping of the teens.

Video urging battle against Israeli forces

Residents of Gaza celebrated the presumed kidnapping of three Israeli teens on Saturday, after Hamas slammed the Palestinian Authority for cooperating with Israel to find the youths. The three – Eyal Yifrah, 19, Gil-Ad Shayer, 16, and Naftali Frenkel, 16 – have been missing since Thursday night, and a massive manhunt led by the IDF has been in ongoing since.

Related stories:

Led by families of Palestinian security prisoners, candies were handed out in a protest tent set up in Gaza by families to express solidarity with prisoners serving time for security related offences in Israel, and residents praised the "operation in Hebron", calling for additional kidnappings.

Song mocking kidnapping of three Israeli teens

"We are celebrating this formidable operation in Hebron," said Misbach Abed Rabbo, a spokesperson for the families of Palestinian security prisoners.

"We have always called for the kidnapping of soldiers. We view this as the only just solution for freeing our sons from the occupation's prisons," he told Hamas' local paper.

Abed Rabbo further slammed the Palestinian Authority's attempt to aid Israel to find the missing teens, saying officials "should unite behind the Palestinian or keep quite."

Expressions of schadenfreude are common on Palestinian social media outlets, with users drawing comparisons between the three and Gilad Shalit, who was held captive in Gaza for over five years before eventually being released in a prisoner exchange deal with Israel.