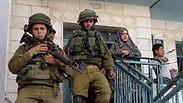 The IDF surrounded a house in the Hebron area on Sunday night apparently in connection to the search for three abducted Israeli teens. The move reportedly led to the arrest of two Hamas activists.
Palestinian sources told Ynet that a loud explosion rocked the area, most likely caused by soldiers destroying the door to the structure. The sources also reported casualties among the residents. Other reports claimed a missile was fired on the building.
The sources said the soldiers instructed the residents to turn themselves in. Hebron locals who were close to the structure were ordered to maintain distance.
Reports suggested that the targeted home is owned by a family with connections to Hamas though it is unclear if the residents have any connection to the kidnapping of three teens on Thursday evening. According to reports, a Palestinian who was wounded by gunfire was evacuated to a hospital in a military vehicle.
It was earlier reported that the search operations of the security forces were focusing on a specific part of a town, not far from where the boys were abducted.
Related Stories
Meanwhile the IDF continued its search operations in the Hebron region. The IDF has deployed northwest of the city since being informed of the possibility of a kidnapping – several hours after police received the initial details.
Meanwhile, soldiers manned security checkpoints at the entrances and exits to Hebron, the largest city in the West Bank. The increased activity is intended to pressure the local population and prevent the movement of the terror cell that conducted the kidnapping and any possible transfer of the victims.
The IDF said the intention was not to harm the Palestinian population or to disrupt daily life. Additional arrests are expected Sunday night, as the IDF attempts to breach the inner circles of the Hamas cell behind the abduction.