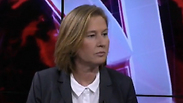 'The things Abbas said are important'
Photo: Assi Cohen, Hagai Dekel
Justice Minister Tzipi Livni praised on Wednesday Palestinian President Mahmoud Abbas' comments regarding the three Israeli teens presumed to be kidnapped in the West Bank.

"The things Abbas said are important, correct and an accurate representation of reality – Hamas is a terror organization which harms civilians and children," Livni said.

Livni also said that Hamas "is not raging this war for the Palestinian people or their national desires, but only again the State of Israel and thus it cannot be legitimized."

Abbas lashed out against the culprits behind the kidnapping of Eyal Yifrach, Gil-Ad Shaer and Naftali Frenkel, using harsh words: "Those who carried out the kidnapping want to destroy us," Abbas said on Wednesday afternoon.

"The three teens are human beings like us and they should be returned to their families," he said, adding that "It is in our interest to have security coordination with Israel because that would help protect us."

"I say it frankly, we will never have another Intifada—that would destroy us," he explained.

Abbas further said that once the kidnappers are found, his government will "settle accounts with them."

Abbas, who was speaking at the Islamic Conference of Foreign Ministers, made it clear that he has no interest in returning to the days of an intifada. He noted that Americans spoke with him regarding the kidnapping and told him that one of the abductees is an American citizen. "We told them that it does not matter whether he is an Israeli or an American, he is a human being."
Search continues
The IDF arrested 64 Palestinians overnight Tuesday, including 51 Hamas members who were released in the Gilad Shalit prisoner exchange deal as Operation Brother's Keeper entered its sixth day.
Through Wednesday, 240 people were arrested as part of the Israeli military's operation to retrieve the three teens who went missing in the West Bank on Thursday night, including 180 Hamas operatives; some 800 structures have been searched.
The 51 were part of a group of 1,027 Palestinians released in 2011 from Israeli prisons in exchange for an Israeli soldier captured by Gaza terrorists in a cross-border raid in 2006.
IDF forces also raided the offices of the Hamas-affiliated Al-Aqsa radio station in Ramallah and the TransMedia communications company in Hebron. Military sources said that the objective of the raid is to collect documents and other materials that incriminate and link the movement to terror activities in the West Bank.
Prime Minister Benjamin Netanyahu praised IDF forces for the complex operation they carried out last night.
"Last night's operation in which Hamas terrorists – including many of those who were released under the agreement for the return of Gilad Shalit – sends an important message and is one in a series of operations that will continue in order to bring the abducted youths home and strike at Hamas in Judea and Samaria."
A senior military source said earlier Wednesday morning: "We operated in the entire West Bank: 300,000 people are under siege or closure, and this is beginning to hit home after eight years of relative well-being."
The military source added that those released as part of the Gilad Shalit prisoner exchange are obligated to check in with security forces. "They breached the terms of their release and are now being questioned. This is a significant event. (Forces) have also shut down checkpoints, including in the area of Beit Hagai, which have been open up until now."
Elior Levy and Yoav Zitun contributed to this report