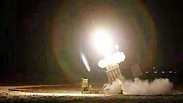 Iron Dome interception, illustration
Photo: Tal Shamir
Israel responded to rocket fire on Israel Wednesday, with IAF jets attacking a number of terror targets late Wednesday night. According to a Palestinian report, one person was wounded in the attack.
Earlier in the evening, rockets fired from the Gaza Strip slammed into a Sha'ar Hanegev Regional Council community Wednesday causing light damage to a structure.
The incident joined a long list of such attacks onto Israel over the past week, and came as the majority of security forces efforts were focused on finding Eyal Yifrach, Gil-Ad Shaer and Naftali Frenkel – the three Israeli boys kidnapped in the West Bank last Friday
Related stories:
Two rockets were fired from Gaza Strip at Israel at roughly 9:20 pm Wednesday, setting off the Color Red alert siren in Sderot and the surrounding regional council. One of the rockets landed in an open area, while the other fell near a structure, causing light damage.
At the time of the siren local residents reported hearing a loud explosion.
On Sunday evening Palestinian terrorists launched two rockets at the southern city of Ashkelon, but an Iron Dome missile defense system managed to intercept them, preventing damage and injuries.
Local residents reported hearing a series of explosions and seeing fragments of the rockets fall across the city. Ynet received many messages from Ashkelon-area readers who reported hearing the explosions.
In response to the attack, IAF fighter jets attacked a center of terror activity, three arms production and storage sites in northern Gaza, and another center of terror activity in the south of the Strip.
A day before, on Saturday, a rocket exploded in a Hof Ashkelon Regional Council community, only a few dozen meters from a residential structure, however no injuries or damages were reported.
Search continues: West Bank crackdown
The IDF arrested 64 Palestinians overnight Tuesday, including 51 Hamas members who were released in the Gilad Shalit prisoner exchange deal as Operation Brother's Keeper entered its sixth day.
Through Wednesday, 240 people were arrested as part of the Israeli military's operation to retrieve the three teens who went missing in the West Bank on Thursday night, including 180 Hamas operatives; some 800 structures have been searched.
The 51 were part of a group of 1,027 Palestinians released in 2011 from Israeli prisons in exchange for an Israeli soldier captured by Gaza terrorists in a cross-border raid in 2006.
IDF forces also raided the offices of the Hamas-affiliated Al-Aqsa radio station in Ramallah and the TransMedia communications company in Hebron. Military sources said that the objective of the raid is to collect documents and other materials that incriminate and link the movement to terror activities in the West Bank.
Prime Minister Benjamin Netanyahu praised IDF forces for the complex operation they carried out last night.
"Last night's operation in which Hamas terrorists – including many of those who were released under the agreement for the return of Gilad Shalit – sends an important message and is one in a series of operations that will continue in order to bring the abducted youths home and strike at Hamas in Judea and Samaria."
A senior military source said earlier Wednesday morning: "We operated in the entire West Bank: 300,000 people are under siege or closure, and this is beginning to hit home after eight years of relative well-being."
The military source added that those released as part of the Gilad Shalit prisoner exchange are obligated to check in with security forces. "They breached the terms of their release and are now being questioned. This is a significant event. (Forces) have also shut down checkpoints, including in the area of Beit Hagai, which have been open up until now."