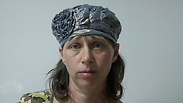 Hadas Mizrahi
Photo: Eli Mendelbaum
Hadas Mizrahi, widow of Police Commander Baruch Mizrahi, who was killed in a Passover eve terror attack near Hebron by Ziad Awad, a Palestinian freed from an Israeli jail as part of the prisoner deal that freed Gilad Shalit, praised on Monday the arrest her husband's murderer: "We're glad because the despicable terrorists will sit in prison and will not be able to harm others.
"On the other hand, the unfair conditions in which the prisoners are held, of which I read in the media, incite anger and pain. A punishment that does not deter will cause a terrorist to repeat his actions."
She added: "We would like to thank and strengthen the hands of the security forces that are working day and nights to try to protect us in our country. Baruch's absence will never be filled. Unfortunately, the emotional and physical pain still exists. Baruch, the exemplary father, son, brother and husband, is gone.
"We believe that such a crime cannot be forgiven and want the State of Israel to impose a heavy, deterrent punishment that will prevent terrorists from killing again as they have done. I pray and hope for the peaceful return of our sons without the release of an additional terrorist."
What needs to be done so that does not happen?
"Don't give terrorists hotel conditions. I believe terrorists deserve the death penalty."
Two months have passed since the murder. How were they for you?
"These were very difficult months. It's very difficult for the children. It's hard, but we said we want to be a happy family, we want to get up and continue our lives."
How did you feel when you heard that an indictment was filed against the murder suspects?
"I have mixed emotions. I can't say that I'm happy since they are still alive."
Were you aware of the arrest of the suspect or did you discover it today?
"I don't want to go into the details of the investigation.
"Are you given updates? Are security forces in contact with you?
"They look after us with great care."
Bayit Yehudi MK Ayelet Shaked told Ynet: "These deals lead to additional deaths. The public takes notice of those who can be saved, but does not see those who will later be murdered, As long as Bayit Yehudi is in the government, no more murderers will be released."
Killer was freed in Shalit deal
Ziad Awad, a resident of the village of Idna near Hebron, was released in the prisoner exchange deal which saw Gilad Shalit freed in 2011 in return for 1,027 Palestinian prisoners, it was cleared for publication Monday.
An indictment was filed Monday against Awad, for murder and attempted murder.
Awad was freed in the first tranche of the Shalit prisoner exchange deal, after he was sentenced to life in prison for murdering Palestinians who had collaborated with Israel.
Chief Superintendent Mizrahi, a senior officer in the Israel Police, was killed when a gunman armed with what is believed to have been a Kalashnikov opened fire on Israeli cars near Hebron, as they travelled to a Passover Seder in the Kiryat Arba settlement. His wife and nine-year-old son were wounded in the attack. Mizrahi left behind five children.
Awad, 42, was arrested last month by the Shin Bet and the police in a special joint operation with the IDF. He was arrested together with his son Izz a-Din, 18, who helped him plan the attack as well as flee the murder scene and hide afterwards. Both father and son are members of Hamas.