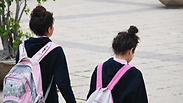 'Criminal discrimination' against Sephardic girls (archives)
Photo: Yoav Friedman
The Education Ministry is stepping up its battle against ethnic discrimination in ultra-Orthodox schools. The ministry last week canceled the registration of girls to the New Beit Yaakov seminary in the haredi city of Elad, just two and a half months before the start of the new school year, claiming that the institution discriminated against Sephardic candidates.

This is an unusual step taken against expressions of racism in the haredi education. The ministry plans to closely supervise the repeated admission process in order to guarantee equal examinations and screening methods for all applicants.

Harsh Words

Haredi party's official newspaper compares principals of discriminating school to Josef Mengele but party's website omits comparison due to 'technical considerations.'

The ministry will also look into the possibility of terminating the principal's employment following a hearing held recently.

The Education Ministry intervened in the matter after receiving information that all 25 Ashkenazi candidates were admitted into the haredi high school for girls ahead of the new school year, while only five of 95 Sephardic candidates were accepted.

A total of 119 girls applied to the institution, and 30 were admitted – 83% of them Ashkenazi.
'Zero tolerance towards discrimination'
At first, the Education Ministry ordered the suspension of the registration until the issue would be clarified. Following an inquiry, which included the principal's hearing, it announced its dramatic decision to cancel the registration.

"We promised to show zero tolerance towards discrimination, and we are standing by our word. It's very important that on the one hand, the educational institutions' principals understand that we mean what we say, and on the other hand, that the parents know they can come to us and complain in cases of ethnic or other discrimination, and we will take care of their complaint devotedly."

Attorney Yoav Laloum of the Noar Kahalacha association, which combats ethnic discrimination in ultra-Orthodox educational institutions, said that "the Education Ministry took an important step by cancelling the faulty and discriminative registration process, in which Sephardic and Ashkenazi girls were registered separately.

"I call on the ministry to impose significant personal sanctions on this discriminating principal for everyone to see, and so that no principal will see such criminal discrimination as an insignificant matter."