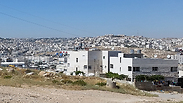 Hebron: Life returning to normal.
Photo: Eli Mendelbaum
The three Israeli teens that were kidnapped nearly two weeks ago still haven't been brought back home, but it appeared Tuesday that the city of Hebron was beginning to return to everyday life after an extensive IDF operation to find the three victims and punish their captures.

Palestinian police forces returned to the streets of Hebron after keeping a relatively low profile for the last few days. Roadblocks were taken down and residents enter and exit the city with greater freedom of movement than they've had since the operation began.

Soldiers are also allowing Palestinians to travel on the main highways like 60 and 35 after having their vehicles searched.

Related Stories

In a cabinet meeting Monday, security chiefs discussed the situation and the official decision was that the operation would continue until the kidnapped kids were found and brought home. Another meeting is planned for Wednesday but in the meantime the military action against Hamas has lessened and become more specifically targeted.

Meanwhile, thousands of combat soldiers are continuing searching a wide area of open territory for any clues or hints that may lead investigators to the kids or their kidnappers, but only four Palestinians were arrested Monday night, a dramatic decrease from every night in the last week.

However, Military forces did continue targeting civilian welfare and charity organizations that Israeli intelligence accuses of funding Hamas. But most of Monday night's operations took place in open areas, wells, and caves in the area.

Intelligence gathering also continued in attempts to point IDF forces in the right direction. The Shin Bet seems to be focusing their work on interrogations of prisoners captured over the last week as well as carefully studying some 150 security cameras in the area surrounding where the kids were apparently kidnapped from.