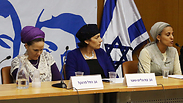 Kidnapped teens' mothers. 'I feel a moral obligation to publicly express my solidarity with you'
Photo: Gil Yohanan
Hello to the dear parents of Gil-Ad Shaer, Naftali Frenkel and Eyal Yifrach. My name is Jalal Safadi, and I am a proud Arab citizen of the State of Israel. I am writing to you as an educator who leads initiatives for strengthening the coexistence and dialogue in Israel, and also a father and family man.

After putting a lot of thought into it, I decided to write to you precisely during these difficult days in which we are controlled by our emotions. I said to myself that we must do something and let the rationalistic and sane voice stand out, in order to strengthen you and hope that the kidnapping affair ends peacefully.

Knesset Tensions

Arab MK sparks storm with comments; Lieberman brands her ' terrorist' as Zoabi, Jewish lawmakers trade barbs on Knesset floor.

I am writing to you very nervously and out of a deep and sincere hope for your sons' wellbeing. Your children's kidnapping promotes nothing and will definitely not help bring peace between the nations.

As an educator, I believe that in these moments we must exercise restraint and not let ourselves get dragged by radical acts or radical statements, like the ones heard unfortunately in recently days. The only purpose of these statements is to make political gains at the expense of your immense suffering.

As a person who is proud of his Arab identity and Israeli civil identity and supports Jewish-Arab coexistence and peace, and as an Education Ministry official responsible for the non-formal education of Arab youth in the country, I feel a moral and humane obligation to publicly express my deep solidarity with your suffering.

I and many of my friends, educators in the Arab and Jewish societies, have been doing a lot of work in a bid to bring the two nations together. Our activity focuses on the Arab and Jewish youth, while looking for the common denominators, points of agreement and joint work – and mainly out of mutual respect.

It is precisely because of our faith in the youth's ability to make a deep change in the relationship between the nations that we are so shocked by your sons' kidnapping, just like we are shocked by any harm caused to Palestinian children or teens.

There is no doubt that the Israeli-Palestinian conflict affects the relationship between the two people in the state. And yet, I promise you that most of the State of Israel's Arab citizens oppose any type of terrorism, and are definitely against hurting civilians – mainly woman and children – on both sides.

The racism disease is spreading every day, and "price tag" activities in the Arab communities inside the State of Israel have become a daily thing, as have acts of terror by Arabs against Jews. These acts taint the relations between us as sane people.

For the sake of both sides, and in order to be able to continue maintaining a democratic state here, we must turn the relationship between Jews and Arabs in Israel into a national project, which students' meetings will be a significant part of.

The premise is that a direct dialogue between Jewish and Arab youth is the foundation of every significant educational process, which will prepare the next generation for life in a multicultural, democratic and tolerant society. If only we can find the way to stop the bloodshed and live in coexistence and out of deep and sincere mutual respect.

I hope that my words and anticipation for your sons' fast return to you will help support you at this difficult time, if only just a little.