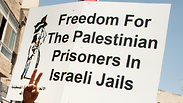 Protest for Palestinian prisoners
Photo: Shuttershock
Some 60 percent of Palestinians reject the idea of a two-state solution to the Israeli-Arab conflict, according to a new poll, and instead support a five-year plan to "work toward reclaiming all of historic Palestine, from the river to the sea." However, a clear majority do not support the use of violence to achieve their goals.
The survey, commissioned by The Washington Institute, found that only 31 percent of Palestinians in the West Bank and 22 percent of those in Gaza supported a two-state solution. Nonetheless, just 11 percent of West Bankers and 8 percent of Gazans would be in favor of a one-state solution, in which Jews and Arabs "have equal rights in one country, from the river to the sea."
Related stories:
Palestinian pollster: Kidnapping 'very bad for Palestinian people'
More than half of Palestinians oppose new talks with Israel, poll finds
Similarly, the survey found, only one third of Palestinians believe that the two-state solution "should be the end of the conflict," while almost two-thirds said "resistance should continue until all of historic Palestine is liberated."

Only one third accepted that Palestinians may have to "give up some of our claims so that our people and our children can have a better life."

Nonetheless, most Palestinians – and those in Gaza in particular – do not support a return to violence to achieve their goals, the survey found. Fifty-six percent of West Bank respondents and 70 percent of those in Gaza agreed that Hamas "should maintain a ceasefire with Israel in both Gaza and the West Bank". Furthermore, more Gazans (57 percent) than West Bankers (50 percent) said that Hamas should accept Abbas' position that the new Palestinian unity government must renounce violence against Israel.

But a majority of the respondents did back non-violent protests to achieve their objectives, with 62 percent of those in the West Bank and 73 percent of those in Gaza supporting action such as demonstrations and strikes.

Furthermore, settlement construction and Jerusalem were deemed less important in terms of advancing peace than the release of prisoners in Israelis jails, with 45 percent of respondents citing freeing prisoners as the one step Israel could take "to convince Palestinians that it really wants peace". Just 19.7 percent cited a settlement freeze and 17.3 percent listed the division of Jerusalem as the key issue in this instance.

The poll was conducted between June 15-17 during face-to-face interviews with a random sample of 1,200 adult Palestinians, and had a 3 percent margin of error.